School Resource Officers build bridges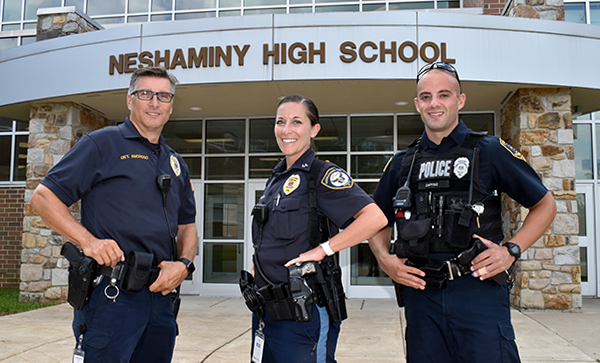 School Resource Officers Andrew Amoroso, Melissa Robison and Joe Zaffino outside Neshaminy HS.

Not long ago, the sight of a police officer or vehicle at a school would have been a cause for alarm among staff and parents. Now, patrol vehicles are as routine as school buses outside District buildings, and officers can be seen high-fiving students as they arrive in the morning, participating in school activities, or walking hallways, cafeterias and playgrounds throughout the day.

What changed was an increased desire for a stronger law enforcement presence in schools resulting from a number of high-profile school shootings and other incidents across the nation over the past two decades. While the presence of police in a school certainly can help prevent such a crime in the future, there is much more that is gained by having a closer relationship between law enforcement and education.

Neshaminy currently supports three School Resource Officers. Detective Andrew Amoroso and Officer Melissa Robison come from the Middletown Township Police Department, while the most recent addition, Officer Joseph Zaffino, comes from the Lower Southampton Police Department. Though they are uniformed, fully connected with their police departments and drive fully-equipped police vehicles, they are based at their respective Neshaminy schools full-time each school day. The District pays a  flat yearly fee for each officer, which covers a portion of their salary and expenses. The Townships pay the balance of the costs.

The benefits of the School Resource Officer program reach far beyond patrols and emergency response. Each officer spends a major portion of his or her day working with administrators, students and families to identify and prevent problems areas before they turn into emergencies. Immersion in the school environment gives them the opportunity to build a positive relationship with the students, who might then be less afraid to seek help from somebody they know and trust. The officers also share vital information about bullying and substance abuse prevention by guest teaching health classes and increase awareness of how law enforcement works by speaking in classrooms and at career fairs. They frequently participate in co-curricular activities such as kickball, pickle ball and tag football games with students, and are often seen at Back-to-School Nights, PTO events and other community activities.

Their presence in the schools is one aspect of an ongoing effort to increase security throughout the District. This includes security vestibules in each school building, hundreds of new security cameras, new and updated emergency procedures, web and smart phone applications to identify and report threats quickly, and ongoing staff training.

Videos: Meet the School Resource Officers
NHS screen celebrates Alumni Achievers



The Neshaminy Education Foundation recently purchased a new video monitor, which has been placed across from the Main Office at Neshaminy High School. The monitor displays rotating slides highlighting stories centered around "lifetime achievements." These achievements can be any post-HS, college, or military success in business, industry, academia, government, entertainment or  community service. The goal is for current students to see these profiles as they move around the building and gain inspiration from these stories of success as they think about their own futures.

Community nominations of any Neshaminy District alumni for this profile feature are welcome by visiting the link below.

Neshaminy Alumni Achievers nomination information
Survey to assess field conditions at NHS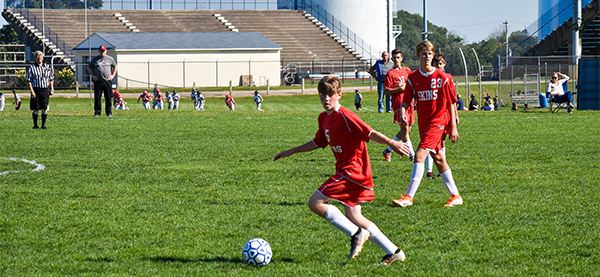 A wet spring, dry summer and heavy usage have taken their toll on the athletic fields at Neshaminy High School this year. In an effort to assess field conditions and plan possible remediation, the School Board authorized a study to be conducted by ELA Sport of Lititz, PA at their September 24 meeting. The group will survey the fields and offer various solutions that could include anything from changes to maintenance procedures to complete field reconstruction or the addition of artificial turf fields. The survey is expected to take 4-6 months to complete, and will include input from a steering committee from the District to help guide the project.

NFT, Board agree to 5-year deal
The Neshaminy School District Board of School Directors and the Neshaminy Federation of Teachers have both approved a five-year contract. The Board approved the deal at their September 26 meeting by a vote of 8-0 (with one absence). The compensation related terms of the tentative agreement include:


A five-year agreement for certificated employees with salary increases of 3.1%, 2.4%, 2.1%, 2.0% and 2.3% over the five years of the agreement, for an average increase of 2.4% per year. Salary step increases are included in the percentages noted for each of the five years.
New language that will permit use of identified secondary teachers to teach up to six instructional periods a day and for the District to have greater flexibility in the design of the academic schedule.
Revised language associated with the annual new teacher orientation program.

Extended lease and building upgrades approved for former Lower Southampton ES

| | |
| --- | --- |
| | The former Lower Southampton Elementary School building is getting a substantial upgrade to its heating & air conditioning system. Neshaminy School District leases the building to the Bucks County Intermediate Unit (BCIU), which uses it for special needs and Pre-K Counts classes. The building closed as an elementary school at the end of the 2015-2016 school year upon completion of the new Tawanka Elementary School. The District chose to keep the building and secured a lease deal with the BCIU through 2023. |

On September 24, 2019 the Board agreed to extend the lease until 2029 and to also approve HVAC and other improvements to the building. These improvements are part of the final phase of the District-wide Guaranteed Energy Savings Act (GESA) project to improve HVAC, electrical, plumbing and insulation systems in multiple buildings. The financing  for the project will be the full responsibility of the tenant, the BCIU. There is no cost to Neshaminy School District for the upgrades.

School meal & other help resources available
Families that are eligible for the Neshaminy Free & Reduced Meal Program are invited to sign up for an additional free services -- the District can send your information to other agencies that offer assistance programs for qualifying families. Though acceptance is not guaranteed, this is a convenient way to find out about services that might be available to you. To participate, you must sign and return a permission form found at the website linked below.


Neshaminy Free & Reduced Meal Program Information
We Build Futures Awards
Superintendent Jones once again honored District staff who made significant contributions to fulfilling the District's mission or advancing the implementation of the Neshaminy Strategic Plan.

Honored in September (click on the name to see nominating information):




Congratulations to all award winners! More information about the We Build Futures Awards can be found on the district website link below.



We Build Futures award winners



Friday, October 4:

Homecoming at NHS Varsity Football game, 6 pm


Saturday, October 5:

Homecoming Dance at Neshaminy HS, 7 pm


Wednesday, October 9:

Schools closed




Friday, October 11:

Pink Out at NHS Varsity Football game, 7 pm




Saturday, October 26:

Kaleidoscope of Bands, Neshaminy HS, 7 pm


Wednesday, October 30:

Spooky Kooky public show, Neshaminy HS, 7 pm


Tuesday, November 5:

District closed, Election Day


Friday, November 8:

Veterans Day Ceremony, Maple Point MS, noon



Please check the District and school websites for additional events and changes.
---
Pearl S. Buck Elementary School
Apple STEM project celebrates a historic birthday
Ms. Strayline's kindergarten class celebrated the birthday of Johnny Appleseed with a STEM challenge, using apples as their primary construction material. First, the class listened to a reading of Dr. Seuss'

Ten Apples up on Top,

followed by an apple-stacking challenge where the young engineers had to figure ways to stack a tall tower of apples. After a few attempts, the students discussed different materials in the classroom that would help to stack the apples. They tried tape, glue, and then Play Dough. To wrap up the experience, they discussed what went well and what the group could try next time.



Joseph Ferderbar Elementary School
Summer Reading Challenge ends in a pirate party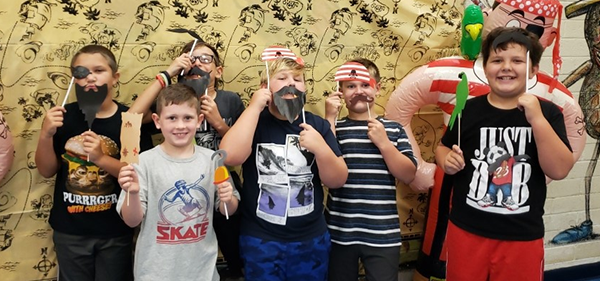 On September 21, each student who completed a summer reading packet was invited to a pirate-themed party in the cafetorium that included snacks, small treasures (pencil and bookmark), and group pictures with pirate decorations. In addition, there was a raffle for a $10 Barnes & Noble gift card for each grade level. Thanks to Reading Specialists Pam Haggerty and Jennifer Pinson for organizing this fun event!

Herbert Hoover Elementary School
Ice cream makes Back-to-School better...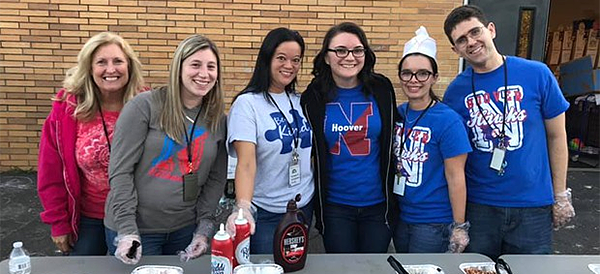 Thanks to Hoover ES staff members and PTO volunteers, families enjoyed a Back-to-School Ice Cream Social on September 20.


Walter Miller Elementary School
Dancing helps burn off the ice cream energy!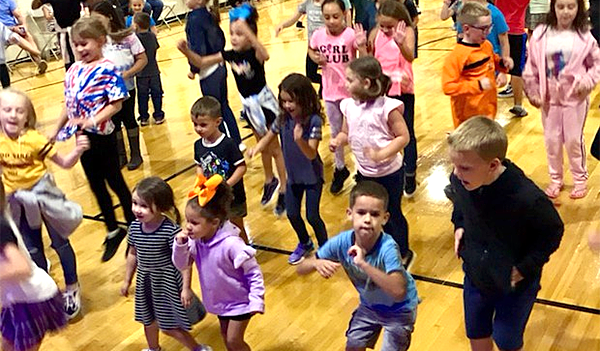 The PTO at Walter Miller Elementary sponsored an Ice Cream Social to start their new school year right on September 13.


Summer readers celebrate their literary success
In September students at Walter Miller assembled in the cafeteria for their Summer Reading Celebration. This celebration was a culmination of all the hard work they did over the summer months to prevent the "summer slide." The invited students completed a summer packet filled with reading, writing, and comprehension activities. The literacy packet incorporated a
Toy Story
theme "Read to Infinity and Beyond" as did the celebration.
Albert Schweitzer Elementary School
Positive behavior program kicks off with a picnic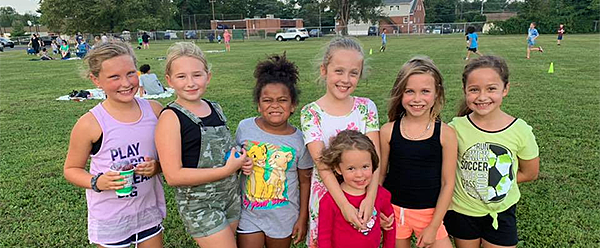 On September 5 the families of Schweitzer Elementary gathered for an after-school picnic. This is the first event of the year for the CARES (Cooperation, Attitude, Respect, Empathy & Safety) positive behavior program.

New carpet, playground stencils brighten the building

The entrance and playground at Schweitzer Elementary are much brighter thanks to two new additions over the summer. The fourth grade class from the 2018-2019 school year donated a new full-color carpet featuring the Schweitzer logo, and bright new stencils have been painted on the playground.

Tawanka Elementary School
Parent University offers curricular insight




The chairs may have been tiny but the educational concepts were great during Kindergarten Parent University held September 16. The adults in attendance had the opportunity to find out what their kindergarten children will be learning this year in math, writing and reading, in order to better understand and help their children with their studies.




Fourth grade creates Constitution Day books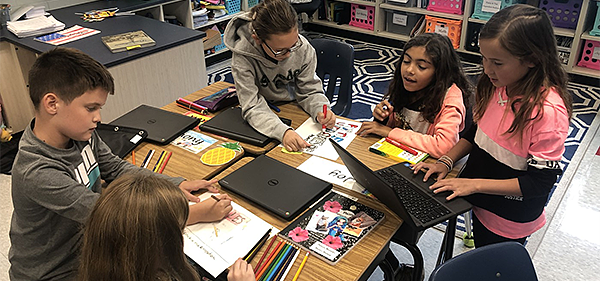 Mrs. Cromwell's and Mrs. McHugh's fourth grade classes celebrated Constitution Day together. They learned the meaning of the preamble and worked together to illustrate a picture book for kids about it.


Poquessing Middle School
Students pen birthday notes to WWII veteran
Poquessing Instructional Aides Margie McCurdy and Kim Hazley heard about a WWII veteran who lives in Texas, about to celebrate his 100th birthday. His only wish is to receive 100 birthday cards. So, they brought paper and crayons/colored pencils down to the Poquessing lunchroom and told the kids about the wish. In true Poquessing Spirit, the kids went to work making heartfelt birthday cards. They all thanked him for his service in the war and wished him the best birthday ever. Over 240 cards were mailed out. They are pretty sure his wish will come true many times over!

Team-building activities start the new year right

On Friday, August 30, students at Poquessing enjoyed three team-building activities in and outside the school to support the school's positive behavior SOAR program (Safe, Organized, Accountable, Respectable). It was a great way to end the first week of the new school year!

Maple Point Middle School
Guest speakers celebrate the US Constitution
Maple Point Middle School once again celebrated the US Constitution by inviting guest speakers to talk with students in each grade about their involvement with our guiding document. Speakers this year included Bucks County District Attorney Matt Weintraub (pictured above), State Representative Frank Farry; US Representative Brian Fitzpatrick, Middletown Police Chief Joseph Bartorilla and Officer Melissa Robison, Middletown Township Supervisor Amy Strouse and LevittownNow.com editor Tom Sofield. Pennsylvania District Attorney Josh Shapiro created a personalized video for the students of Maple Point.

Soccer goal video goes viral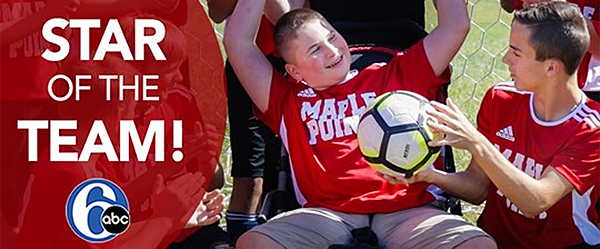 Action News visited Maple Point Middle School on September 27 and aired the story linked below about the Maple Point Middle School 8th grade soccer team and one of their team managers, sixth-grader Anthony Lepre. Earlier in the month, his team helped Anthony, who uses a wheelchair, kick a goal so he could experience the joy of the sport.  A smart phone video of this kind gesture made its way around social media. Anthony is diagnosed with a genetic disorder called "Angelman Syndrome," but with help from his family and classmates at Maple Point, he enjoys a wide variety of activities in school and throughout the community. He attends each game and the team shares high-fives with him after each goal.


Action News: Students help a teammate kick a goal
Carl Sandburg Middle School
Quiz show highlights US Constitution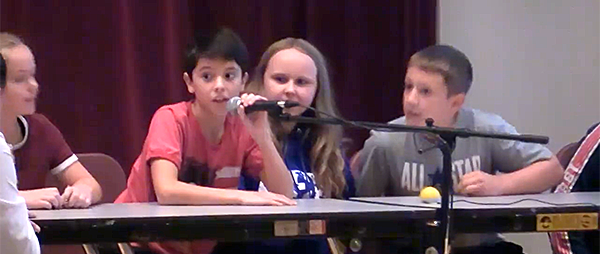 Students in each grade at Carl Sandburg Middle School celebrated Constitution Day by participating in a fun, energetic, live game show on September 20. Titled
Are You Smarter than your Teacher
and modeled after the popular TV game show
Are You Smarter than a Fifth Grader,
the game pitted a randomly selected team of students against a panel of teachers in the school's auditorium. Each had to answer various questions about the US Constitution. Two sessions of the game were held - one for grades 5&6 and another for grades 7&8.
Neshaminy High School
AVID freshmen get a graduation preview
On September 6, the ninth-grade AVID classes at Neshaminy HS visited Harry E. Franks Stadium early in the morning to think ahead to the end of their senior year -- and about what they might accomplish to reach their dreams and goals at Neshaminy HS when they walk across that field one last time during their Commencement Ceremony. AVID is the District's college readiness and academic support program. This year the program continues to expand with the addition of more schools and grades.

Roadies stage a Spooky Kooky preview


At the Neshaminy High School Back-to-School Night September 26, the Neshaminy HS Drama Roadies performed a preview of their popular Halloween show,

Spooky Kooky

. The show is a series of short Halloween-themed skits, which will be performed during assemblies at each elementary school later in October and for the public at Neshaminy HS on October 30.


NHS students inspire potential musicians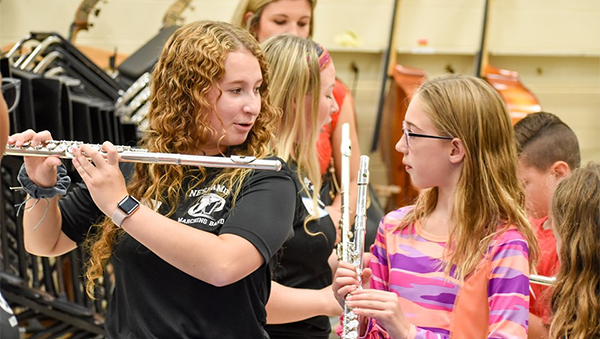 On September 5, scores of elementary and middle school students and their families visited Neshaminy HS to attend the annual Music Discovery Night. The adults learned about the award-winning music program at Neshaminy, while the students got to try out various string, woodwind and brass instruments to help them find out which they might want to learn. NHS student musicians from the Band, Jazz Band and Symphony Orchestra were on hand to perform for them and assist the District music staff with instrument demonstrations.


Community first responders honored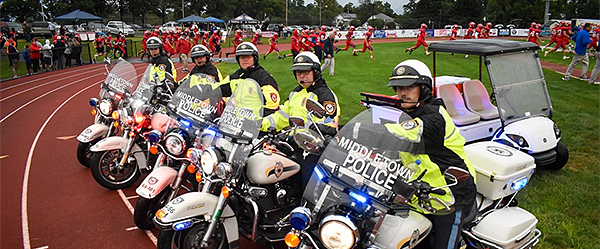 The Neshaminy community once again honored our First Responders at the varsity football game on Friday, September 6. Local police officers, EMT's and firefighters were invited on to the field to be recognized for their service to our schools and the entire area.

Additional, special community events this season include Homecoming on Friday, October 4 and the Pink Out to benefit cancer victim support on Friday, October 11.

Music Honor Society holds induction ceremony

The inaugural class of the Neshaminy HS Tri-M Music Honor Society was inducted during a ceremony in Theodore Kloos Auditorium at Neshaminy HS on September 23. Tri-M is a national honor society for middle and high school musicians sponsored by the National Association for Music Education.

The inductees this year are (in alphabetical order): Kate Bilenko, Brianna Fallon, Victoria Fischer, Julia Khusidman, Cody Lewandowski, Erin McGinniss, Grace McKenna, Shannon Mohan, Madison Neiman, Benjamin Sacks, Carleigh Saxton, Samantha Antoian, Justice Balabuszko, Alison Cefalone, Molly Coughlin, Jacqueline Dyszel, Emily Krajnikovich, Elizabeth McGonagle, Stanley Omietanski, Sarah Omietanski, Julia Garibaldi, Rachel Myers, Ainsley Lederer and Serhiy Vereshchak.

Interact Club focuses on suicide prevention, 'Ending the Silence'

| | |
| --- | --- |
| Neshaminy HS alumnus Amanda Grace Krier visited the NHS Interact Club's first meeting Thursday along with some representatives from the National Alliance on Mental Illness, where she was an intern. They spoke to the club about the group's "Ending the Silence" program to increase mental health awareness in middle and high schools. | |
The group also dropped off 3,000 "Peyton Heart Project Hearts," which contain positive messages that the Interact Club members will distribute around the area. This is part of a global project to help end suicide, bullying, and the stigma surrounding mental health issues.

---
In Memoriam
| | |
| --- | --- |
| | Neshaminy HS teacher Janet Dougherty passed away suddenly on September 28, 2019. Mrs. Dougherty was the lead teacher for Business, Computers and Information Technology for the District and taught classes in Entrepreneurship and Innovation, Finance and Investment, Macroeconomics, and Accounting. The Pennsylvania Business Education Association named her Educator of the Year in 2013. She was the past advisor for the Future Business Leaders of America Club at NHS, and current assistant coach for the varsity field hockey team. She founded the SILO food pantry at Neshaminy HS in 2017 as a way to teach her students that entrepreneurship can help solve social problems, including food insecurity. |
Mrs. Dougherty taught at Neshaminy HS since 1999. She was a graduate of Penn State University with a degree in Business Administration. She received her teaching certification from Gwynedd-Mercy College, and a Masters Degree in Business Administration with a Finance concentration from La Salle University.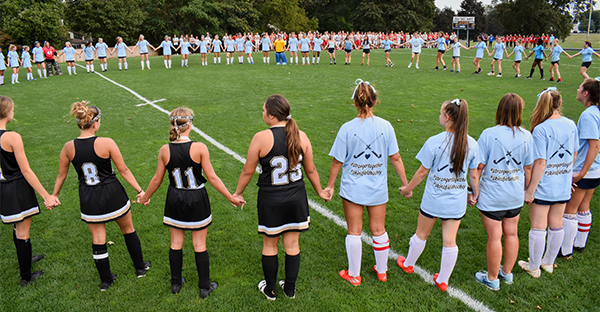 The Neshaminy HS Field Hockey team, their opponents from Truman HS, athletes from other NHS teams and other specators gather for a moment of silence before a game October 2 to honor Mrs. Dougherty.
Neshaminy Update is published monthly during the school year and distributed to the Neshaminy community via email and web. To submit comments, suggestions or news items for consideration, please email Chris Stanley, Community Relations Coordinator.
Neshaminy School District



2250 Langhorne-Yardley Road

Langhorne, PA 19047

Joseph Jones III

Superintendent

(215) 809-6000



Neshaminy School Board

of Directors



Marty Sullivan - President

Stephen Pirritano - Vice President
John Allen


Cyndie Bowman
Irene M. Boyle
Bob Feather


Tina Hollenbach


Adam J. Kovitz
David Marrington


---
The Neshaminy community builds futures by empowering each child to become a productive citizen and a lifelong learner.