Senior Year Experience opens up the world of college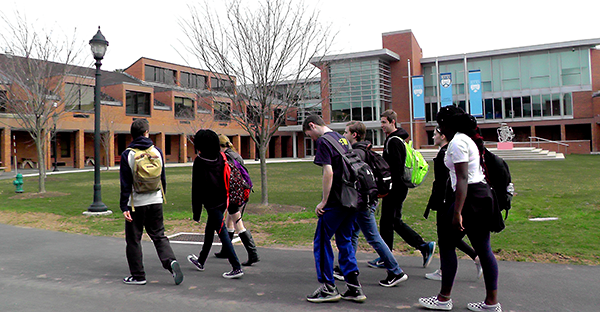 Neshaminy HS students walk to classes on the campus of Bucks County Community College


Over 60 Neshaminy seniors are learning what it takes to succeed in college this year, months before they are finished with high school.

Thanks to the Neshaminy/Bucks Senior Year Experience program, which made a debut this year, the students are taking classes at Bucks County Community College (BCCC) during the school day while still finishing their coursework at the high school. The students are earning 12 college credits this year, which can be applied to future studies at BCCC or transferred to other institutions such as Temple University or Drexel University. The program offers three credits in English composition, three in humanities (social studies), and six credits for two courses of the students own choosing. These courses are provided as part of the students' high school program. Tuition, transportation and textbooks are funded through a federal Ready to Learn grant.

What makes the program unique is that the students are taking their Senior Year Experience classes at the BCCC campus in Newtown and, for that portion of the day, are fully immersed in campus life. Students who have their own cars can transport themselves, or they can take advantage of daily school bus service between the high school and the BCCC campus. When they are at the campus, they have the same freedoms and responsibilities as their fellow college students to get to class on time and complete their course work.

This year students in the program are taking their optional classes in everything from math and macro economics to psychology and medical terminology.

Neshaminy is the first district in Bucks County to operate a dual enrollment program like this one. While students have long been able to earn some college credit in certain advanced high school classes, this is the first time they have been able to actually take classes at a college campus with the full support of the district and the college during the school day. Neshaminy High School Principal Dr. Rob McGee and the Neshaminy administration have worked closely with administrators at BCCC to ensure success in every detail of the program, including scheduling, course selection and academic support. The Neshaminy/Bucks Senior Year Experience is expanding next school year; over 90 students have already enrolled.


| | |
| --- | --- |
| While the students participating this year are pleased about earning college credit, they also talk about how they have gained valuable time management and social skills. Jumping between a high school and college environment poses unique challenges, but also gives them a wider world view that should make their post-high school transition to college much smoother. | NHS senior Maame Ampofo attends a psychology class at BCCC |
Neshaminy welcomes 2 new administrators

| | |
| --- | --- |
| Ryan P. Staub | Michelle Burkholder |

Two new administrators were approved by the School Board of Directors at their Public Board Meeting on April 24.

Ryan P. Staub, currently serving as Assistant Principal at Pennsbury High School, will replace Dr. Rob McGee as Principal at Neshaminy High School effective July 1, 2018. Ryan started his career as a social studies teacher in the Norristown and Upper Moreland School Districts and later served as Assistant Principal and Athletic Director at Upper Moreland before moving on to Pennsbury. He is a graduate of West Chester University (BA, Political Science) andGratz College (MA, Education). He completed a certification in Education Leadership, K-12, a program at Cheyney University.

Michelle Burkholder is returning to Neshaminy School District as the new Director of Elementary Education, also effective July 1. She will be joining Dr. McGee, who was previously appointed as the Director of Secondary Education for the district, to replace Dr. Gloria Hancock, who is retiring at the end of June. Michelle is currently serving as Principal at Willow Dale Elementary School in Centennial School District and was the Director of Pupil Services in the Pennridge School District prior to that assignment. At Neshaminy, she served as Principal at Lower Southampton Elementary School from 2013 to 2016 and Special Education Supervisor from 2004 to 2014. She is a graduate of East Stroudsburg University (BS, Special Education), Holy Family University (MA, Education). She received a Supervisory of Special Education and Principal Certification through coursework at Lehigh University.


District approves a new healthcare plan

Neshaminy district employees will be switching healthcare providers starting July 1 from Aetna to Independence Blue Cross. The change comes after the Board sought proposals for reducing costs associated with the current plan, which was administered by the Bucks and Montgomery Labor Management Health Care Consortium. The district had earlier retained a consultant, Stalker & Associates of Newtown, to research plans and recommend a replacement. The new plan matches the coverage of the old one while providing a substantial cost savings to the district. According to the consultant, employees should not have to change medical providers once the new plan is implemented.

The Board also approved changing the employee life and disability plans to OneAmerica, based on a recommendation from TriBen Solutions, which was retained as a consultant for those policies. The new plan provides identical coverage at a reduced rate for the district and employees.



New committee to focus on infrastructure
| | |
| --- | --- |
| | To better address the infrastructure needs of Neshaminy School District, the School Board approved forming a new Board committee at their April 24 meeting. The Facilities & Planning Committee will meet to address issues relating to building and grounds maintenance, new and ongoing building projects and support systems. These items were formerly addressed in the Business Operations Committee, but as the agenda of that committee was increasingly filled with complicated budget-related items, Board members felt that a separate committee would be better able to focus on vital building issues. |
Foundation honors music at Neshaminy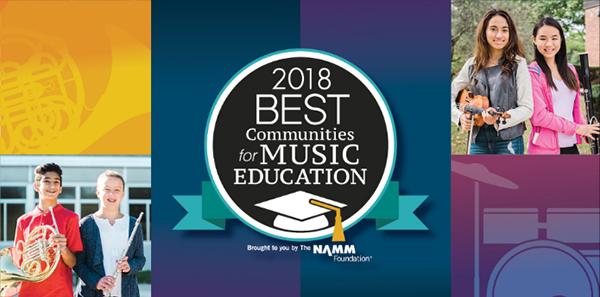 For the second year in a row, Neshaminy was named one of the 'Best Communities for Music Education' in the United States by the National Association of Music Merchants (NAMM) Foundation. According to the sponsors, "the award program recognizes outstanding efforts by teachers, administrators, parents, students and community leaders who have made music education part of a well-rounded education."

Congratulations to all of those who fill our schools and community with music and support our music program!


Hundreds attend STEAM Expo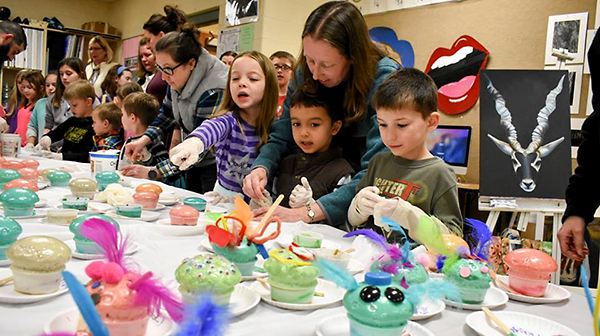 Making monsters at the STEAM Expo 2018



The fourth annual STEAM Expo (Science, Technology, Engineering, Art and Math) drew a record crowd to Neshaminy High School on Thursday, April 19. Families packed the hallways and classrooms to explore everything from environmental science and digital art to virtual reality and astronomy. Elementary schools displayed their best Science Fair exhibits, and a number of community organizations presented activities, demonstrations and displays.



Photo Gallery: STEAM Expo 2018
District Art Show celebrates creativity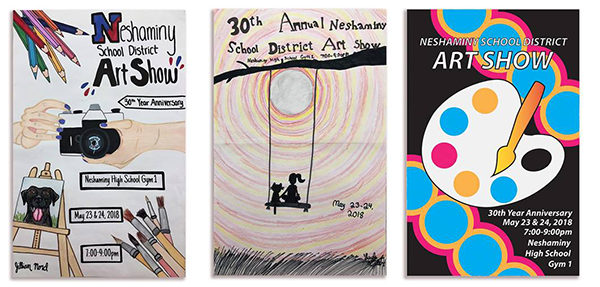 The 30th Annual District Art Show will be showcasing the creativity of the students and art staff in Neshaminy schools on May 23 and 24. Hundreds of artworks from a variety of mediums including piainting, drawing, photography, sculpture, digital art and more will be on display in Gym 1 at Neshaminy High School from 6:30-8:30 each night.

The winners of the District Art Show poster contest were announced in April — congratulations to Ryan Vaughn from Neshaminy HS; Jillian Nord from Maple Point MS and Layla Agster from Ferderbar ES.





In related art news, Neshaminy High School freshman Sara Ozdemir had an artwork selected for inclusion in the 2018 Bucks County Intermediate Unit Student Art Gallery. Her Warhol-esque depiction of Dunkin' Donuts coffee cups earned her the honor.

The gallery includes an artwork from every district in the county.

Summer programs offered




Neshaminy is once again offering a number of programs to keep students engaged over the summer months. The 61st Annual Secondary Summer School offers a variety of courses to complete academic requirements at Neshaminy HS.

The 54th Annual Summer Fine Arts Academy offers theater and music workshops, and will present the Hunchback of Notre Dame and the Wizard of Oz this year. The youth workshop is already full but spaces remain for students in grades 6-12.

Neshaniny Kids Club will operate summer camps at Herbert Hoover and Tawanka elementary schools this year.

.


Welcome spring with a Block Party



Spring weather can be unpredictable, but hopes are high that the annual Sport Block Party at the Middletown Township Community Park near Maple Point Middle School will provide a fun afternoon on

Friday, May 4 starting at 3:30 PM.

The event, sponsored by the Middletown Township Department of Parks and Recreation, will feature a junior varsity Neshaminy lacrosse game and varsity baseball and lacrosse games along with food, live music, and games for kids. Parking and a shuttle bus will be available at Maple Point Middle School. Games start at 3:30 pm and 7 pm.


Education Foundation holds fundraisers

| | |
| --- | --- |
| | The Neshaminy Education Foundation is having a busy spring raising money for its grant and scholarship programs. On April 14, the Harlem Wizards visited and delighted a crowd of over 900 with their high-energy basketball tricks. Maple Point Coach Skip Mason, along with assistant coach Bill Barnes, led a team of Neshaminy staff members from around the district in a valiant effort. |

The Foundation is raffling two baskets featuring over $250 in donated local restaurant and business gift cards each. Tickets can be purchased in any school main office for $5 each or 3 for $10 through May 18.

The NEF Alumni Committee is planning a second meeting at a site to be determined in May. Plans are under way to begin developing alumni resources such as a Hall of Fame, social activities, and a volunteer speakers database.


April We Build Futures Award winners
Superintendent Jones once again honored District staff who made significant contributions to fulfilling the district's mission or advance implementation of the Neshaminy Strategic Plan.

Those honored in April include (click on their names to see nominating information):





Congratulations to all award winners! More information about the We Build Futures Awards can be found on the district website below.




We Build Futures award winners
---
Pearl S. Buck Elementary School



Buck celebrates Earth Day


Mrs. Arner's kindergarten class learned about the 3 R's (reduce, reuse, recycle). They discussed landfills, pollution and composting. The class discovered many beautiful things right here in our community by going on an Earth Day scavenger hunt. They sorted materials that can be reused for a culminating project and even discovered the recycle symbol on many of them.

Mrs. Sulon's second grade class celebrated Earth Day by planting cucumber seeds in soil they created using compost! Sometimes being rotten is a good thing!

Ms. Mish had her first grade students create a class book about how they can help the earth.
Mrs. Junod held an Earth Day picnic outside. Each student in her second grade class was asked to bring in a trash-free lunch. It was a great success. The students learned that some things are bio-degradable, and packing with reusable and recyclable items not only helps our planet but it is more cost effective.
Weather station helps to build future meteorologists
| | |
| --- | --- |
| | What better way to celebrate the return of warm weather than by learning how to measure it with the brand new Pearl Buck Weather Station! This state-of-the-art unit sits high atop the Pearl Buck building like a beacon saying, "Welcome good weather!" Not only will this device record the temperature, but it will bring valuable data that can be used inside the classroom for future meteorologists. Along with the warm, sunny days, it will also report on rainfall amounts, wind speed, wind direction and any dreaded snowfall predicted to come our way...NEXT year, we hope. |
Joseph Ferderbar Elementary School
Walking Club back on the trail



The Ferderbar Walking Club is back with the return of warm weather. With help from parent volunteers and staff members, students walk a course on school property during recess.



EarlyAct collecting cards for military serving on the ocean

The Early Act Club has been busy making and collecting cards that will be sent to members of the military serving on the U.S.S. Reagan. The goal is to collect 3,200 cards with messages thanking the recipients for their service, and sharing pictures, stories, puzzles, and whatever else they might enjoy seeing.


Herbert Hoover Elementary School



Hoover showcasing Art on the Move
Art teacher Justin Bursk has collaborated with the Bucks County Intermediate Unit to bring the
Art on the Move
program to Hoover this year. Several pieces of art from the Bucks County Intermediate Unit art collection are currently on display in the library. Mr. Bursk has used these pieces of art to inspire his students and to create interdisciplinary connections to the math, social studies, science, art, and language arts standards.
A group of students from the Middle Bucks Institute of Technology will be visiting to create an archival video of this project for the Bucks County Intermediate Unit. They will film Mr. Bursk and his students while they are working on this project. On the afternoon of May 2, Mr. Bursk will be working with students from Mrs. Rafferty's class and Mr. Smith's class.
Hoover wins second consecutive PBIS Award

The Pennsylvania Positive Behavior Support Network has determined that Hoover Elementary School has met the criteria for implementing School-Wide Positive Behavior Interventions and Supports with fidelity during the 2017-2018 school year. This was made possible by all the students, teachers, instructional assistants, parents, and all of the members of the Hoover PBIS Team who worked hard this year to help students with improving their behaviors!

Walter Miller Elementary School

Students clean up for Earth Week

Earth Week has been an important annual event at Miller ES for many years. The students and staff worked hard to clean up and beautify their little piece of the earth around the school building. Kindergarten students even had a litter-less lunch!


Albert Schweitzer Elementary School
Pre-K literacy event promotes early reading skills
On April 17, the Bucks County Intermediate Unit (BCIU) sponsored a Family Literacy Night at Schweitzer for pre-kindergarten students. The families that attended were given a number of strategies and tools to give their children a head start on reading skills, while the children enjoyed activities that promote early reading skills. This year Schweitzer hosted two classes of the Pre-K Counts program in the school building and the program is schedule to continue next year with classes at Schweitzer and the Lower Southampton Early Learning Center (the former Lower Southampton Elementary School) operated by the BCIU on behalf of the Neshaminy School District.


Pre-K Counts information and registration
Emojis can be art, too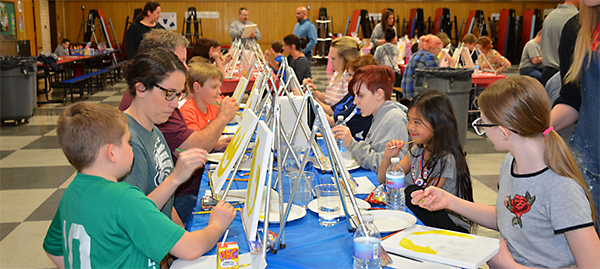 The Fourth Grade Committee sponsored a Parent and Me Painting Night as a fundraiser on April 17. The subject of their creative energy this year was those lovable emojis that we find in our texts and emails.


Students, volunteers particpate in Special Olympics
Seven students enrolled in the Life Skills program participated in Special Olympics on April 21. The event included athletes from the Bucks county area who competed in a variety of track and field events at Council Rock North High School.

A number of other students from Neshaminy School District volunteered their time to help out at this fun annual event.



Tawanka Elementary School

NBC10 meteorologist visits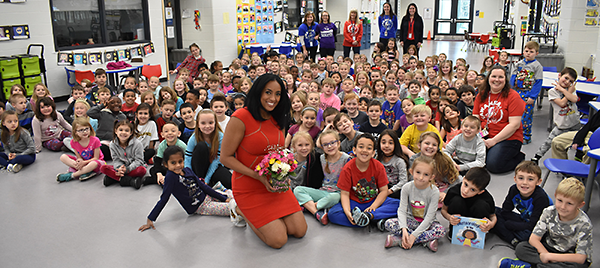 On April 10, the first grade at Tawanka welcomed NBC10 meteorologist Brittney Shipp to their school. This visit was the centerpiece of a multi-faceted weather project the students have worked on for weeks that included research, weather forecasting, posters, and the creation of a book that was inspired by a children's book authored by Shipp. Ms. Shipp read the book to the students during her visit.


Brittney Shipp at Tawanka
Career Service Day highlights life's possibilities
| | |
| --- | --- |
| April 26 was Career Day at Tawanka Elementary School. Throughout the day students in every grade were introduced to a wide variety of professional possibilities including police officers, nurses, business owners, farmers, bankers, teachers, attorneys, a scuba diver, a college professor, a court reporter who is also an ice skater, and even a train engineer. Some brought interesting items from their workplace and answered many questions. | |
Maple Point Middle School



Students write letters to veterans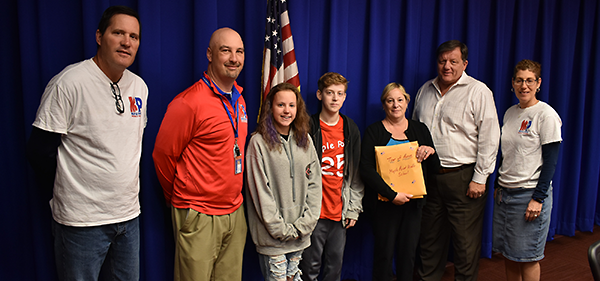 Representatives from the non-profit Bucks County Tour of Honor stopped by Maple Point April 27 to pick up a stack of 125 letters written by 8th grade students to be distributed on the next Tour trip to Washington D.C. in early May. The group sponsors two such trips every year, giving Bucks County veterans the chance to visit memorials, museums and other attractions in our nation's capitol. In this video, two of the students read the letters they wrote, which are particularly compelling and heartfelt.


Recupido Run returns to Maple Point

The fourth annual Recupido Run is set for Saturday, May 19 at Maple Point Middle School. The race starts at 8:30 am will include a 5K and a one-mile fun run.

This race honors Deby Recupido, a well-loved social studies teacher at Maple Point for 11 years. She was very active in student activities, and after she passed away in 2014, this race was started to honor her memory. The proceeds benefit student activities at Maple Point.


Poquessing Middle School

Environmental Club cleans up for Earth Day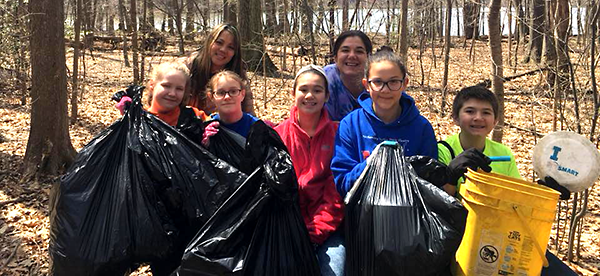 Great job to adviser Lisa Scott and the Poquessing MS Environmental Club celebrating Earth Day by cleaning up the Churchville Nature Center on April 21. The group removed over 25 pounds of trash from the area.

AVID 8th grade elective expansion already proving popular

Plans to expand the AVID (Advancement Via Individual Determination) program from the high school to middle schools and even the elementary schools are proceeding and a number of students have already signed up for a pilot program in the 8th grade at Poquessing next year. The program provides support for students to succeed in rigorous courses with an eye toward college and future achievement. The course was offered as an elective for 9th graders at the high school this year; next year those students will continue as sophomores and another class will be added for incoming 9th graders at NHS. AVID skills will also be introduced to fourth grade students at Ferderbar ES next year. These pilot programs are part of an expansion that will eventually reach additional grades and all Neshaminy schools.

Carl Sandburg Middle School

What's Up Sandburg? Winter sports review and more
Check out the latest entries on the student-produced
What's Up Sandburg
website. Currently featured is a winter sports wrap-up, the Sandburg Winter Concert and information about the Al Durante Service Award.

https://whatsupsandburg.com



Club sends care packages to Iraq





Members of the Carl Sandburg SADD (Students Against Destructive Decisions) Club, advised by Terry Martian, received a warm thank-you letter from Army Combat Engineer Captain Laura Yuengert, who is stationed in Iraq. The students recently made up and sent eight care packages which were distributed by Cpt. Yuengert to her fellow soldiers.
Neshaminy High School
Over 300 senior citizens enjoy their own prom at NHS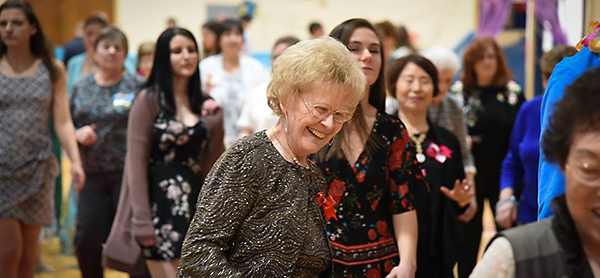 On Friday, April 20, the Service Learning Club and the Student Council at Neshaminy High School, with help from community donors, volunteers and NSD staff, hosted the annual Senior Ball. The theme this year was Under the Sea, and Gym 3 was filled with nautical decor. Over 300 area Senior Citizens attended free of charge, enjoying food, drink, dancing, music and new friendships across the generations. The Service Learning Club is advised by Cate Romano and Kelly Macauley, and the Student Council is advised by Richard Kain.


Envirothon team heading to state competition

| | |
| --- | --- |
| | Congratulations to the Neshaminy HS 2018 Bucks County Envirothon first place winners who competed in the Bucks county competition (L-R) Adviser Brian Suter with team members Jason Faccenda, Caroline Angerer, Bill Angerer, Kiara Marable and Ashly Alexander. The team scored 368 points on April 25 -- one of the highest scores in 14 years -- and they now will compete in the state competition on May 22 and 23 at Susquehanna University. |
Future Business Leaders of America Club earns accolades

The Future Business Leaders of America Club sponsored a 5K Walk/Run at the high school in November, sold t-shirts, raffled donated baskets and collected over $3,300 to benefit Alzheimer's research. With that effort, the Neshaminy chapter received top honors in April, placing 3rd out of 299 state chapters in total funds raised, and 7th per capita. They also earned the 'Gold Seal Chapter' and the 'Outstanding Chapter' awards.
Thirty-eight Neshaminy High School FBLA members attended the State Leadership Competition between April 9-11 in Hershey. The students competed against the top winners in their events from across the state of Pennsylvania.
| | |
| --- | --- |
| The NHS Entrepreneurship Team of Tom Mirarchi, Alyssa McErlain and Steven Muller took First Place and will be heading to Baltimore, MD in June to compete at the National Level against the top finishers in the United States, Puerto Rico, the Virgin Islands and Guam. The team surpassed others in a 100-question test and made an oral presentation for a start-up business in front of a five judge panel. | |
#Catie continues her magical American Idol journey
On April 29, Neshaminy HS senior Catie Turner made it to the Top 7 finals in the ABC-TV show

American Idol

. The show is now broadcast live each week, and the voting for the most recent episode all happened during the broadcast and the results were announced at the end of the program. Catie, who is often referred to by her Twitter handle #Catie, has impressed the judges with her incredible style range, singing talent, and unstoppable energy.




Photo courtesy ABC-TV


Message for #Catie from the Neshaminy HS Select Choir
MiniTHON raises over $11,500 to fight cancer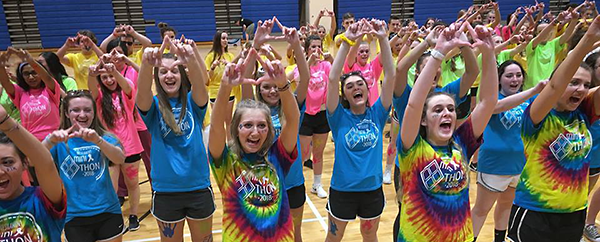 Congratulations to the Neshaminy HS MiniTHON team, who raised $11,510.75 for the Four Diamonds Foundation this year. They held their 6-hour THON on Saturday, April 14 and revealed the final amount at the end of the event. MiniTHON is the local version of the wildly popular Penn State THON and supports the fight against pediatric cancer.

New inductees added to the Sports Hall of Fame

Congratulations to all the 2018 Neshaminy Sports Hall of Fame inductees who were honored at a ceremony on April 13. This year's inductees include:

Brian Gemberling

, Class of 2008, Diving

Vanita Moses

, Class of 2007, Indoor Track

Eric Weinelt,

Class of 1983, Soccer

Stephanie McGinty-Thomas

, Class of 2007, Basketball

Jim Daven

, Class of 1984, Track & Field

Scott Kennedy

, Class of 2006, Volleyball

Christine Gannon

, Class of 2004, Softball

Brittany Edelman

, Class of 2006, Bowling

David Brous

, Class of 2008, Lacrosse

Lauren Van Demark Roskos

, Class of 1991, Field Hockey

Theodore McDonald

, Class of 2008, Cross Country

Katie Haas

, Class of 2006, Soccer

Jared Savitz

, Class of 2006, Bowling

Jamar Brittingham

, Class of 2002, Football

Syetta Legette

, Class of 2005, Track & Field
Lacrosse team visits Woods Services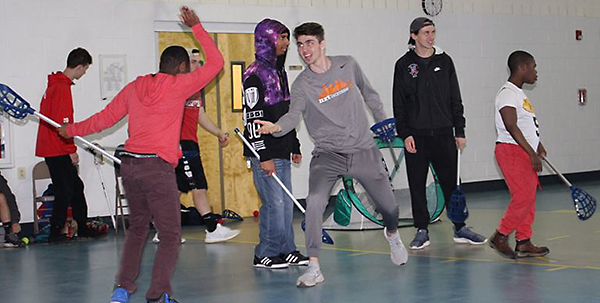 On April 7, members of the Neshaminy High School lacrosse team spent their Saturday afternoon sharing their passion for the game with residents of Woods Services in Langhorne. They taught lessons about teamwork, friendly competition, good sportsmanship and building confidence while making new friends during a fun-filled day.



NHS musicians perform at state conference

| | |
| --- | --- |
| | Congratulations to three Neshaminy HS musicians that were selected to join the Pennsylvania All-State ensembles. Jarod Mellus and Joseph Stanford (All-State Wind Ensemble) and Schuyler Janzen (All-State Concert Band) attended and performed at the Pennsylvania Music Educators Association Annual Conference held in Lancaster on April 18-21. |

The Neshaminy HS Jazz Band under the direction of Daniel Weiner was also honored to perform at the conference.


International Dinner delivers the world on a plate

On April 6 the World Language Club at Neshaminy HS held their annual International Dinner. Students and their families contributed main dishes and desserts and were able to enjoy a feast that spanned the entire globe.


International Dinner at NHS
Thespians ace Theater Festival while preparing for their next show

Neshaminy thespians scored big at the Bucks County Playhouse Theater Festival on April 9. The Spotlight in Acting was awarded to Evan Sleppy; Best Actress was awarded to Madison Galvelis; the Best Actor award went to Ricky Moyer; and the Best Production was awarded to the Neshaminy staging of Sweeney Todd.

In May Neshaminy Drama will be staging James and the Giant Peach May 9-12 in the Black Box Theater at Neshaminy HS. Tickets are only $10 but are selling fast; they can be purchased at the NHS Main Office during normal business hours.

AVID class visits Bloomsburg University

| | |
| --- | --- |
| | A group of AVID (Advancement Via Individual Determination) students from Neshaminy HS visited Bloomsburg University on April 26. Some of them competed in the 'Husky Dog Pound', in which a group of students are scored for presenting an 'elevator pitch' for an idea. All of the students had the opportunity to meet with professors and discuss different majors, take a tour of the university, and visit classrooms, dorms and the cafeteria. |
The staff at Bloomsburg was generous enough to provide lunches for all of the students and present application waivers to all of them who took part in the competition should they be interested in attending the school.


---
In Memorium
Betty A. Golden,
83, who had a 43-year career as an elementary school teacher and reading specialist in the district, passed away Saturday, April 14.
Neshaminy Update is published monthly during the school year and distributed to the Neshaminy community via email and web. To submit comments, suggestions or news items for consideration, please email Chris Stanley, Community Relations Coordinator.
Neshaminy School District

2250 Langhorne-Yardley Road

Langhorne, PA 19047

Joseph Jones III

Superintendent

(215) 809-6000

Neshaminy School Board

of Directors

Marty Sullivan - President

Bob Feather - Vice President
John Allen


Cyndie Bowman
Irene M. Boyle


Tina Hollenbach


Adam J. Kovitz
David Marrington


Stephen Pirritano

---
The Neshaminy community builds futures by empowering each child to become a productive citizen and a lifelong learner.