Amplify Science expands, incorporates literacy strategies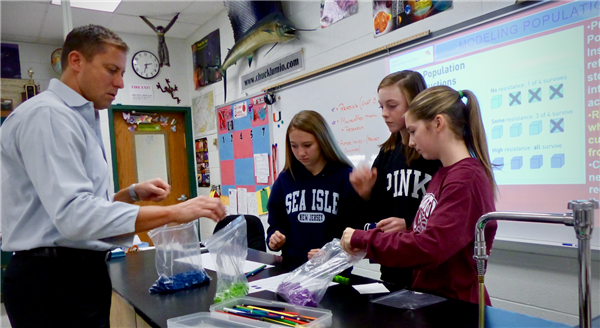 Students work on a modeling project at Maple Point Middle School



Amplify Science was introduced to the middle schools last year when it was rolled out in the 6th and 7th grades. This revolutionary program is now expanding to the 8th grade this year, and will help our educators create the next generation of scientific innovators and citizens who are skeptical, curious, and evidence-based thinkers. The program's instructional strategy is designed to allow students to explore phenomena with the purpose of solving authentic problems. In addition, Amplify Science incorporates many of the Pennsylvania core standards in math and literacy as students solve problems and communicate findings.

This innovative program incorporates a great deal of reading and writing in the content area. Students are being taught how to think about what they have observed, read, and experienced and to speak and write about it in a way that provides insight into their scientific thinking. Specifically, students are asked to state their claim, report their evidence, and detail their reasoning. This is known as CER (Claim, Evidence, and Reasoning). A claim is a statement of what a student has come to know. It is supported by the evidence gathered from reading, observation, or an experiment. Reasoning ties together the claim and evidence to explain why the evidence supports the claim.

This type of writing bears a strong resemblance to

Text Dependent Analysis

(TDA) which is found in literacy classes. In science class, students must support their claim by citing evidence in their research or experimentation, and then explaining why this evidence supports their claim. In TDA, students are asked to synthesize answers based on the evidence in their reading passage and then to interpret the meaning behind the evidence.

Our middle school science and literacy teachers have begun to collaborate on how to support students in making this connection.


'Tis the Season!


The holidays are upon us and once again our Neshaminy community is working hard to make sure that every family has enough food to enjoy them. With help from school counselors, nurses, social workers and other staff members, families who could use some extra assistance are identified and provided with necessities and holiday extras thanks to the generosity of individual donors, community members, service clubs and local businesses. In addition a number of schools also provided donations to area food pantries.

These efforts (details of some can be found in school news below) will continue through the holidays and beyond. Neshaminy High School sponsors an extensive holiday donation program, and donations from the community are welcome. In addition, a new year-round food pantry operated at the high school provides needed assistance to students and their families.



Grant winners announced


Two district grant programs recently announced winners in their annual classroom grant programs:

The first is the Superintendent Mini-Grant program, which approved two projects:

Jackie Rippert

and

Cheryl Bedesem

at Neshaminy HS - Snipes Farm collaboration for Life Skills students

Kimberley Maurizi

at Schweitzer ES - Inquiry-based literacy program across different curricular disciplines

The second is the Neshaminy Education Foundation grant program. This year the NEF is pleased to announce funding of nine proposals for a total of $12,407:

Leanne Raab

at Buck ES, Primary STEM Challenges

Justin Bursk

at Hoover ES, Art Rocks - Rocks of Kindness

Susan Wendling

and

Allison Crisp,

Tawanka ES - DreamBox Math

Kate Irizarry

and

John

McFadden

, Maple Point MS - Sensory room materials supporting an inclusive school environment

Jackie Rippert

and

Cheryl Bedesem

at Neshaminy HS - supplies for a student craft fair


Brian Walter,

Hank Oppenheimer

,

Steve McCaughey

,

Josh Elliott

and

Brian Suter

, Neshaminy HS - Code Red STEAM education project packs

Dana Puskas

, Neshaminy HS - Inorganic / organic chemistry student model kits

Siri Sammartino

, Neshaminy HS - Special Q-Ball microphone for Philosophical Chairs Debate activity in law classes

Melissa Bauerle,

Neshaminy HS - NearPod Premium licenses providing digital access to thousands of lessons, content and activities
Congratulations to all!



District honors outgoing Board members




Four new members of the Neshaminy School Board of Directors will be sworn in during a reorganization meeting on Monday, December 4, 7pm at Maple Point.

At the Public Board Meeting on Tuesday November 28, Superintendent Joseph Jones III honored outgoing Board members, thanking  them for their years of volunteer service to Neshaminy and commemorating the occasion by giving each a decorative plate featuring the District seal. Departing members are

Scott Congdon

, the current School Board President (8 years);

Mike Morris

(8 years);

Ron Rudy

(4 years) and

Bob Burnett,

who replaced Board Member

Robert Sanna

after he passed away in June.

Newn Incoming Board members include

Adam Kovitz,

David Marrington

,

Cyndie Bowman

and

John Allen.

They will join five current members --

Stephen Pirritano,

Bob Feather,

T

ina Hollenbach

,

Marty Sullivan

and

Irene Boyle.

Ms. Boyle was re-elected to a new four-year term.


Ready to Learn grant supports multiple initiatives



Neshaminy is pleased to announce that the district will once again be receiving funding through the Pennsylvania Ready to Learn grant allocation. These funds will continue to provide support for a full time Literacy Academic Coach servicing our elementary schools; project based learning support in 172 elementary classrooms and specialty areas; support for the continuation of the AVID and Bucks County Community College programs; development of an opioid addiction curriculum; a Forensics course at the high school; biology, environmental science and chemistry STEM labs; an online course for academic enrichment in all three middle schools and the high school; a college and career online program for middle school students; expansion of IXL supplemental math program licenses; and the expansion of the Imagine Learning and Rosetta Stone for English Language Development Students.


Community enjoys a big light show for one final year


Many Neshaminy staff members have hobbies and passions that they share with students and the community. But none may be as bright or draw as much of a crowd as the annual holiday light show at the Levittown home of Neil DiSpirito, Mr. DiSpirito has been dazzling visitors for the past 25 years with a collection that has grown to include over 300,000 lights. Neil, an electrician with the Neshaminy Facilities Department for 26 years, said this will be the final year for the show. The show lights up every night until December 25 from 6-10 pm at 1 White Spruce Lane in the Willow Wood development of Levittown (Falls Township). Stop by and say hello!



November We Build Futures award winners
| | |
| --- | --- |
| | Superintendent Joseph Jones III once again honored District staff members who made significant contributions to fulfilling the district's mission or advancing implementation of the Neshaminy Strategic Plan. Nominees for this award can come from all departments and areas throughout the district and are nominated by administrators, their colleagues, or even members of the Neshaminy community. Those honored this month include: |
Steve Simons,

social studies teacher at Sandburg MS

Colleen Stahl,

K-5 literacy coach for Neshaminy SD

Kimberly Clement,

physical education teacher at Ferderbar ES

Ryan Gregory,

Coordinator of Student Affairs at Tawanka ES

Leanne Raab

, teacher at Buck ES

Penny Meller,

custodian at Buck ES

Tara Ring

, physical education teacher at Hoover ES

Amy Petrillo,

special education supervisor at Hoover ES and Neshaminy SD
Congratulations to all award winners! More information about the We Build Futures Awards can be found on the district website link below.



We Build Futures award winners
2018-2019 calendar posted

The district calendar for the 2018-2019 school year was approved at the November 28 Board meeting and is now posted on the district website below.


Personal finance program expands, seeks volunteers


Junior Achievement will be conducting a six-week personal finance seminar for 8th grade students in each middle school. A pilot version was tested with success in business classes at Maple Point Middle School last year. Now Junior Achievement is looking for volunteers to help conduct the lessons once a week -- training is provided and all volunteers must pass volunteer background checks. For more information, please download their flyer from the link below.



Junior Achievement volunteer information
Staff receives opioid abuse update, Narcan training


Opioid abuse has increased sharply in Bucks County and throughout the country over the past few years. On November 7, district health & physical education teachers gathered at Carl Sandburg MS for an important seminar on drug trends in the county, especially the sharp rise in opioid abuse. They were also trained in the use of Narcan, which can reverse the effects of an opiate overdose in an emergency situation and has saved many lives. Narcan is now available without a prescription, administered as a nasal spray, and is carried by police officers, EMTs, schools, community groups and anybody else who wants to be prepared in case they ever need to deal with an overdose emergency. Plans for additional training and provision of resources for staff, students and families to face the opioid epidemic are also being implemented this year.


---
News from our Schools
Pearl S. Buck ES
Rotarians deliver dictionaries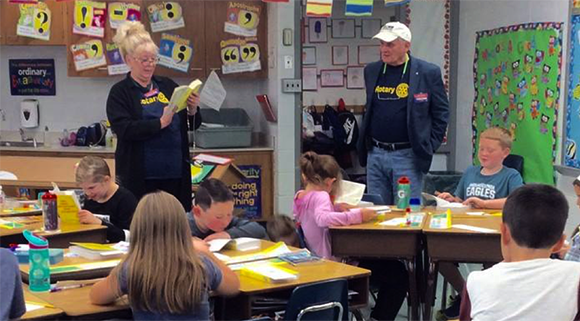 Continuing the tradition...the Rotary Clubs of Langhorne and Feasterville distributed printed dictionaries to every third-grade student in the district in November. The effort started at Buck where Rotary members spent time in each class talking with the students about the Four-Way Test - Is it the TRUTH, is it FAIR to all concerned, will it build GOODWILL and BETTER FRIENDSHIPS, and will it be BENEFICIAL to all concerned? This donation certainly qualified for all four.


Buck welcomes authors

Buck welcomed two local authors, Jennifer Hansen Rolli and Olivia Millevoi in November. The students were honored to listen to both share their individual writing process as well as learn who and what inspires them to write. Also, the students in grades Kindergarten through second privileged to be among the first to read Jennifer's new book,

Claudia and Moth,

which just came out.


First grade writes letters to veterans

The first grade team wrote letters to veterans and sent them Maple Point Middle School. They were then shared with the veterans attending the Maple Point Veterans Day Ceremony. After the program, each veteran received a gift bag with the letters, a "Flag Your Bag" tag made by 8th grade students at Maple Point, a flag car magnet, and a patriotic pocket tissue pack made by the MPMS craft club students.


Joseph Ferderbar ES
Author reads Rosie the Hippo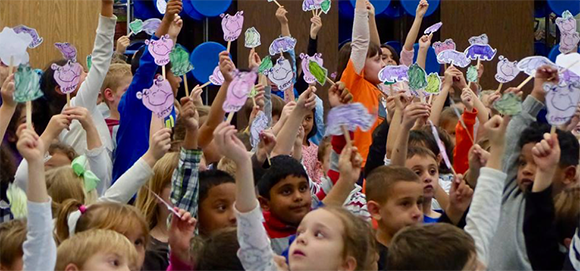 Students at Ferderbar Elementary enjoyed a visit from author Helen Hipp, author of

Rosie the Hippo

and other children's books. She read one of her books to students in grades K-2, who had each made a cutout of one of the characters in the book which they held up as she read. The visit to Ferderbar was the first in the author's

One-of-a-Kindness Book Tour

to schools. She also appeared at the Ferderbar Book Fair held at at Barnes & Noble on November 17.


Elf Fund Dinner creates happier holidays


The annual Elf Fund Dinner raised $2,775 this year, $1,700 from staff donations. Fourth-grade students served 260 pasta dinners to guests during the evening of  November 16. The money goes to provide holiday assistance to families at Ferderbar and Poquessing.


Herbert Hoover ES


Artmobile explores connections across subject areas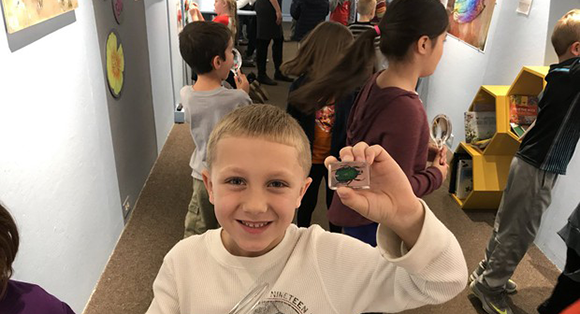 The Bucks County Artmobile visited Hoover on October 31. The Artmobile is a project of Bucks County Community College, housed in a 48-foot trailer. The goal is to bring access to fine works of original art to schools, and this year the emphasis was on exploring the relation between art and other disciplines such as science, reading and math.


Walter Miller ES
Opera group visits music classes

Third-grade students at Miller were treated to an unusual presentation -- a member of Opera Philadelphia visited their music class to sing for them, talk about the elements of opera and even let them perform in a mini-production using a few props and a silly song they all knew. This free program is new to the suburbs, and Miller was one of the first schools to invite them to Bucks County.



Opera Philadelphia visits Miller


Cam Jensen

Author visits
Walter Miller ES welcomed author David Adler in November. Adler has written over 200 books for children and young adults, including many historical biographies and the Cam Jensen mystery series. Adler delivered presentations on the writing process, editing and publishing. The entire school has been preparing for the visit with a number of projects related to his books, including writing and art projects that filled the walls of the school.

Adler also visited Herbert Herbert Hoover Elementary school on November 8.


Albert Schweitzer ES


Poetry on the menu for Thanksgiving feast



Students in Stacey Flynn's first grade class enjoyed sharing Thanksgiving poems they were working on together as a class. The class had been working on their fluency and choral reading as they shared poems in small groups. Parents were invited in to listen to the poetry and then everyone enjoyed homemade apple and pumpkin pie students made by hand earlier in the day. It was a feast for all!



Tawanka ES


The parking lot is here!


An expansion parking lot has been completed and lined, replacing the dirt pile next to Brownsville Road left over from building construction last year. The paving project added 59 much-needed spaces. In addition a water retention basin was completed behind the school.


Food drive brightens the holidays

The Tawanka holiday food drive made it possible to provide 15 Thanksgiving baskets as well as additional goods for future meals for Tawanka families.


Maple Point MS


Food drive nets record donations

After a slow start, the annual Maple Point MS Holiday Food Drive roared to life on Thanksgiving week with record donations. Thirty families received complete holiday meals and in addition, 3,450 pounds of food were collected for the ERA Food Pantry in Levittown. Congratulations Student Council and the entire Maple Point family!


Veterans honored during annual ceremony


The 8th grade was honored to host over 80 area veterans, including three WWII veterans, and their families for the annual Veterans Day Ceremony. Thanks to all the students, staff, PTO volunteers and community members that supported this wonderful, moving tribute.



Maple Point Veterans Day Ceremony 2017


Old crayons needed for recycling program

If you're a parent (or grandparent, teacher, Scout leader, etc) you probably have a box of used crayons somewhere. Maple Point and other district schools are involved with a recycling project that collects them to be recycled into new crayons that will be donated to art therapy programs at pediatric hospitals. It is estimated that 60 million crayons are currently sitting in landfills, and since they are made of wax, they will not break down. Donations can be dropped off during normal business hours.


Essay contest winners honored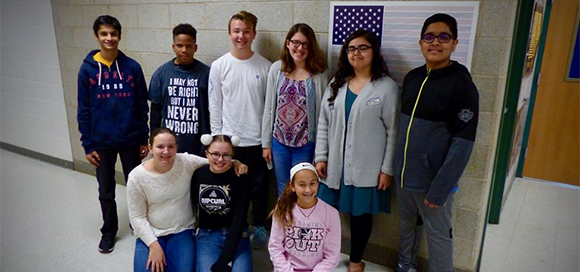 Several Maple Point students were honored for their winning entries in the annual Bucks County VFW Patriot's Pen Contest. Lauren Fetzer took second place and Aaron Lewis took third place in the competition; the others received an Honorable Mention. Front row (l-r): Lauren Fetzer, Maggie Knight and Sophia Capecci. Back row (l-r): Aaron Lewis, Khalil Anderson, Casey Foley, Alexa Miller, Firdous Popal and Zephan Joseph. Congratulations to all for a job well-done!


Poquessing MS
Big month for Select Choir

The Poquessing Middle School Select Choir was honored to perform at the American Choral Directors Association (PA) Conference at Susquehanna University in November. The group, under the direction of Jason Leigh, was chosen following a blind competitive audition among choirs from around the state. They were one of only four groups invited to perform, and the ONLY middle school group (the other three were Lebanon Valley and Boyertown High Schools and a group from the University of Pittsburgh). Their performance was enjoyed by the music educators from around the state as well as the members of the other groups, who gave them a standing ovation for their efforts.

In addition the Choir competed in the 101 More FM Christmas Choir Competition, making it to the final round with a version of

Auld Lang Syne.

They won a $2,000 prize as runner-up in the annual region-wide contest.




Band joins community concert

On November 17, fifteen members of the Poquessing Band performed with the Tri-County Band during their Annual Fall Concert. Retired Neshaminy music teacher Roy Nelson is the director for the Tri-County Band.


Carl Sandburg MS
Food drive brings in big donations

During their annual holiday food drive, Carl Sandburg Middle School delivered meals to 30 families during Thanksgiving week and had enough leftovers to donate to a food to a local food pantry.


No Shave November benefits pediatric hospital

Carl Sandburg Middle School sponsored an ambitious fund raiser for St. Jude Children's Research Hospital by...not shaving. The project was led by a group of male staff members, anyway. The school held a "No Shave November," and the public was invited to sponsor the grizzly group online by clicking on their photos to a donate for a very worthy cause. So far the effort has raised over $3,000.


SPIRIT Club visits seniors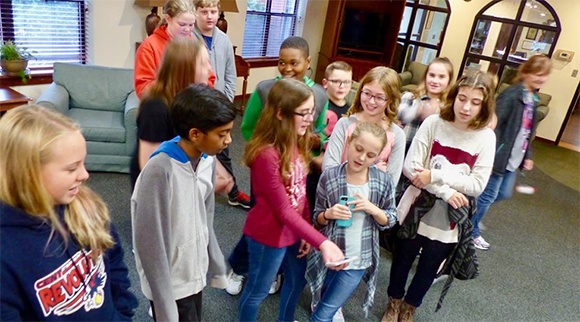 Members of the Carl Sandburg MS SPIRIT Club visited the Attleboro Community in November to spend time with residents there, sharing some holiday music and making crafts with them.


Neshaminy HS
Kujdych makes Neshaminy history
| | |
| --- | --- |
| | Senior Rusty Kujdych became the first-ever Neshaminy state cross-country champion ever after winning the PIAA Class AAA race at Hershey on November 4. He finished the race with a time of 15:47, capping a two-year climb to the top of his game. On the following Monday morning, he was honored by his classmates with a mini-parade, riding into school on top of a firetruck with a police escort. |
Soccer team competes in state championship

The Neshaminy HS Girls Soccer team battled their way through the PIAA state playoffs to make it all the way to the championship round in Hershey in November. Though they came up on the short end of a 1-0 victory by Norwin High School, the team had an incredible season, having  won 12 out of their final 14 games competing against some very strong teams.


Representative for a Day

comes to NHS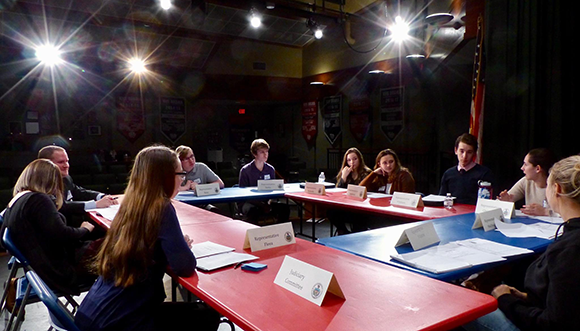 On November 30 a group of 45 students from Neshaminy High School and William Tennent High School participated in a unique

Representative for a Day

event at NHS hosted by Pennsylvania Representative Frank Farry. The students first heard from Rep. Farry and former Lieutenant Governor Jim Cawley about the legislative process, then broke into 'committees' to draft mock legislation which they debated over and ultimately voted on. A number of legislative aides joined the project to guide the students through the process.


Talent show benefits Sunshine Foundation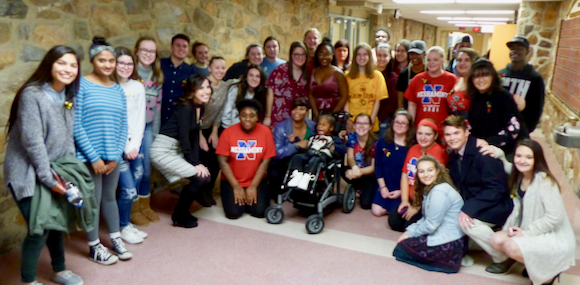 Neshaminy High School's Dance Team and Interact Club presented

Neshaminy's Got Talent

on November 29. Twenty diverse student acts entertained as they raised money for Sunshine Foundation and 'adopted little brother' Rakim. He is a three-year-old with spastic cerebral palsy who dreams of going to Walt Disney World and attended the event with his family. All ticket sales benefited the Sunshine Foundation, a national children's charity that answers the dreams of chronically ill, seriously ill, physically challenged and abused children ages three to eighteen, whose families are unable to fulfill their requests due to the financial strain the child's illness may cause.


Drama season opens with a laugh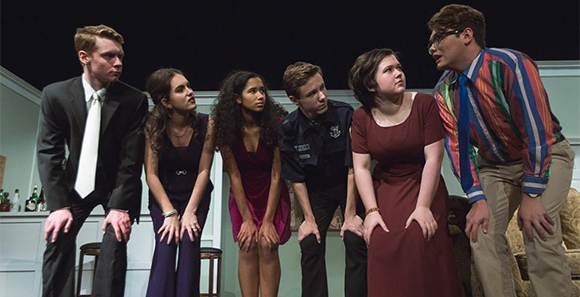 Neshaminy High School Drama opened their season at the Black Box Theater with a presentation of the comedy

Let's Murder Marsha

. The show ran for four nights. Their next production will be a cabaret-style collection of musical numbers and their one-act play

Mirrors

on December 19 and 20 also at the Black Box Theater.



Neshaminy Drama on Facebook
Temple Engineering students share their experiences

Students in Timothy Vogel's chemistry classes at NHS had the opportunity to hear from four senior engineering students from Temple University on November 21 about their experiences and the opportunities available in engineering fields, especially for women.




Marching Band competes in championship


Congratulations to the Neshaminy HS Marching Band who took third place in the Patriot Open division of the Cavalcade of Bands Championship in Allentown on November 12, earning the Most Improved award!


Business students get career advice at Temple

On October 24th, forty-one students from Neshaminy High School's Business, Computers and Information Technology (BCIT) program traveled to Temple University to benefit from the PICPA (Pennsylvania Institute of Certified Public Accountants) Accounting Career Day. This was a free program offered to students for the purpose of learning more about diverse career opportunities in the accounting profession, to discovering the advantages of the CPA designation, and gaining exposure to a college environment. Students received valuable information from senior Temple accounting students (one being a Neshaminy HS alumnus) and interacted with professionals working in the field who shared life experiences and current career opportunities. The BCIT Department at Neshaminy High School offers three levels of accounting instruction to high school students.


FBLA hosts first benefit Walk & Run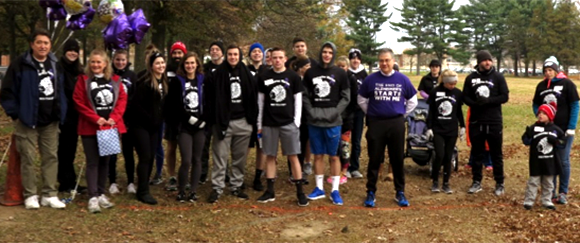 On November 18, the Neshaminy High School Future Business Leaders of America (FBLA) club hosted their first annual 5K Run/Walk for Alzheimer's Association. NHS chapter officers and members planned, organized and worked the event, solicited donations and encouraged family and friends to participate. When the Alzheimer's Association became aware of our students' efforts, they sent a representative who spoke to the participants and kicked off the run.

The goal was to raise $1,500 to donate for this very worthy cause. Because of the members' enthusiasm and genuine desire to help the community, donations came pouring in and as of November 30, $3,100 was raised. Donations can be accepted through March.


Tech students get a behind-the-scenes tour

Seniors in the HVAC Technology program at Bucks County Technical High School were given a behind-the-scenes tour of Neshaminy High School heating and cooling facilities by mechanic Mike Coyne on November 13. The purpose was to let them see real-world applications of the skills they have been learning. Their teacher, Roger Smith, is a former Neshaminy employee.


---
 Neshaminy Update is published monthly during the school year and distributed to the Neshaminy community via email and web. To submit comments, suggestions or news items for consideration, please email Chris Stanley, Community Relations Coordinator.
Neshaminy School District

 

2250 Langhorne-Yardley Road

Langhorne, PA 19047

 

Joseph Jones III

Superintendent

 

(215) 809-6000

 

 

 

Neshaminy School Board

of Directors

 

Scott E. Congdon - President 

Irene M. Boyle - Vice President
Bob Burnett


Bob Feather

Tina Hollenbach


Mike Morris

Stephen Pirritano


Ron Rudy

Marty Sullivan

 

 

 

 
---
The Neshaminy community builds futures by empowering each child to become a productive citizen and a lifelong learner.