Holiday helping is a lifelong lesson learned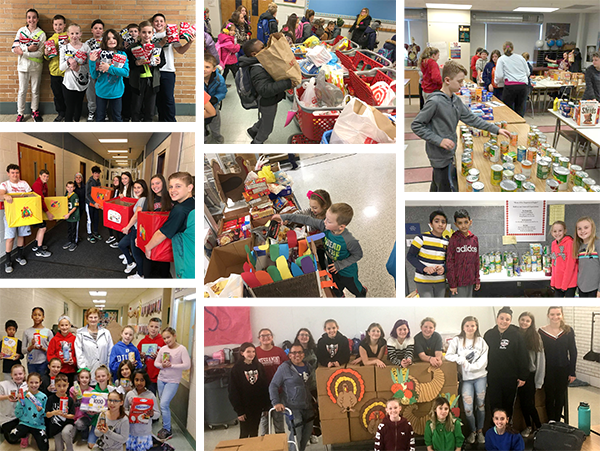 Neshaminy has a long list of traditions, many of which include or center around a theme of community and supporting each other. The holiday food drives at each school are a shining example of this
Spirit of Neshaminy.
Starting long before the holiday season, these drives gather food, gift cards, winter clothing and holiday presents that help every District family enjoy a happier holiday no matter what their circumstances. Many donations come from District families and staff members, but a large number also come from outside groups and individuals. A few highlights this year include:
Tawanka ES held their first pasta dinner to support their holiday food drive, which supplied 15 families with full Thanksgiving meals and more.

Walter Miller ES fourth-graders helped box donated items destined for Mary's Food Cupboard, a local food pantry.
Pearl Buck ES collected Thanksgiving and Christmas baskets for 15 families, and also had enough extra food to share with the SILO pantry at Neshaminy HS.

Maple Point collected 30 Full Thanksgiving Meals and over 5,000 pounds of food. Extra food went to the ERA Food Pantry and the SILO (Social Intrapreneurs Lifting Others) pantry at Neshaminy HS.
The students and staff at Carl Sandburg MS collected enough food for 26 families. National Junior Honor Society and Spirit Squad prepared the boxes.
Poquessing assembled 30 dinners for their families. Students donated the food, while staff brought in turkeys. Two retired staff members even donated pies!
Schweitzer ES staff and students are working with community groups to help provide food and holiday gifts for 15 families with 39 children from ages 6 months to 15 years.
Herbert Hoover ES staff and families provided 27 Thanksgiving meals and donated 259 pounds of food to Bucks County Housing Group.

Neshaminy High School is holding a massive food drive that will help dozens of families and provide supplies for the SILO food pantry all year round. Donations come from clubs, sports teams, individual students and staff members, local businesses and community groups.
The Lower Southampton Police Department Benevolent Association delivered a pair of $300 checks, one for the Elf Fund at Joseph Ferderbar ES and one for the holiday drive at Tawanka ES.


Community contributions are always welcome. Please contact any school Main Office for information on what is needed and how to deliver donations.



2019-2020 District calendar posted




The Neshaminy School Board of Directors approved the 2019-2020 District calendar at their public meeting on November 27. The first days of school for students will be Wednesday and Thursday, August 28 and 29, 2019.





2019-2020 District calendar
Confronting the Crisis presentation Dec. 5



All parents and guardians of middle and high school-age students are encouraged to attend a special substance abuse prevention presentation on Wednesday, December 5, 2018 at 7 pm in Theodore Kloos Auditorium at Neshaminy High School. Presented by Neshaminy HS SPIN and #StandUp Neshaminy,

Confronting the Crisis

will offer vital information on the opioid epidemic.
The Bensalem Township Police Department will bring their "Behind Closed Doors Mock Bedroom Tour" that offers parents a visual lesson on what to look for if they suspect their teenagers are hiding legal or illegal addictive substances. Prevention experts will offer vital information about the crisis and prevention tips for parents.


Online campaign nets innovative seating
In an era of tight budgets, teachers and administrators are always looking for creative ways to fund innovative programs and tools in their schools.

Joseph Ferderbar Elementary School fourth-grade teacher Justine Glinski recently turned to online crowd funding site DonorsChoose to start a campaign to obtain $322 for 'flexible seating' to improve concentration and reading skills among her students. The site is oriented toward education needs and has funded over one million projects over the past 18 years.



"My students are eager, caring, creative, and curious. They are energetic and joyful. They are positive and awesome readers, but they just can't quite get comfortable in their traditional desks and chairs," she wrote on her DonorsChoose campaign page.

"We are requesting balance ball seats, comfy floor seats and beanbag seats for comfortable seating to help improve their reading and writing skills. "

"If our class project is funded, then students will have the freedom to find a comfortable spot in the room to sit down and independently read. They will find reading more enjoyable and read for longer periods of time, which will increase their reading stamina."

Seven donors later, the project was fully funded and the seating will be delivered in December.

Substitute staff hiring event Dec. 14
Neshaminy is hosting the final of three hiring events on Wednesday, December 14 from 10am - 12pm in the District Board Room at Maple Point Middle School. This is a chance to find out about full and part-time opportunities for substitute teachers and support staff at Neshaminy and other districts in Bucks County. You can meet hiring managers, ask questions and begin the application process at this event.



Neshaminy district employment opportunities
November We Build Futures Award winners
Superintendent Jones once again honored District staff who made significant contributions to fulfilling the District's mission of advancing the implementation of the Neshaminy Strategic Plan.

Those honored during in November include (click on their names to see nominating information):



Congratulations to all award winners! More information about the We Build Futures Awards can be found on the District website below.




We Build Futures award winners



Wednesday, Dec. 5:

#StandUp Neshaminy & SPIN Confronting the Crisis
presentation, NHS, 7 pm
Wednesday, Dec. 5:

Fall Drama production, Black Box Theater NHS, 7 pm


Thursday, Dec. 6: NHS Orchestra at Middletown Twp. Holiday Open House, 7 pm


Friday, Dec. 7:

PTO Forum, Maple Point MS, 9:30 am


Friday, Dec. 7:

Interact Club Family Movie Night, 6 pm, NHS Black Box Theater


Saturday, Dec. 8:

ACT exam, NHS


Thursday-Saturday, Dec. 13-15:

Addams Family Musical, Carl Sandburg MS


Friday, Dec. 14:

Substitute staff hiring event, 10 am - 12 pm, Maple Point MS


Thursday-Friday, Dec. 13-14:

NHS Drama Night of One Acts,
NHS Black Box Theater, 7 pm



Please check the District website, school websites and District Facebook page for more information and additional events throughout the year!



Neshaminy Education Foundation



2018-2019 Mini Grant winners announced

Congratulations to the following NEF mini-grant applicants, who will receive funding for their projects. This year the NEF received 23 applications, and is able to fund 9 of them:





Leanne Raab / Randy Nesbitt / Kylene Morecz / Beth Boyle,

Pearl S. Buck ES: STEM Career Kits

Kati Burke

, Tawanka ES: K'Nex & The Engineering Design Process in Elementary School

Jamie Salt

, Hoover ES: Sensory Exploration tools for Hoover's Autistic Support programs

Yazmine Adamson,

Schweitzer ES: Lego Club supplies

Tracy Humbert

, Pearl S. Buck ES: Maker Space kits

Terry Martian / Donna Ferro / Hank Coleman

, Sandburg MS: Inclusive tricycles to enhance the MS cycling program

David Wert / Katie Storck / Bill Burkel

, Poquessing MS: CNC 3-D etching machine

Kerry Hammon / Sheila Royds

, Neshaminy HS: Moticam digital camera and viewing tablet for lab microscopes

Theresa O'Neill

, Neshaminy HS: Table-top light studio for photography classes



---
Pearl S. Buck Elementary School
Hands across the halls offer expressions of gratitude

Throughout the school, students traced their hands and wrote something about which they were thankful. Visitors saw over 1000 of these notes of thanks when visiting the school in November.


Third grade investigates hydroponics
Can plants be grown without soil? How can you grow food in an area that does not have access to the traditional farming space (cities, International Space Station, deserts)? How can you grow food when the seasons do not allow for growth traditionally? These are some of the driving questions that third graders are investigating for a Project Based Learning experience involving the growing of plants hydroponically (without soil) in their classrooms. The students are documenting the growth of the seedlings and are looking forward to eating the fruits of their labor (literally).

Author / biochemist Erin Teagan visits Buck
The students and staff at Pearl Buck were taken on a journey to space with visiting author, Erin Teagan. Mrs. Teagan shared with students in kindergarten, third and fourth grades her experience at NASA Space Camp. She shared how this experience helped her to research being an astronaut for writing the 2018 American Girl Doll book,
Luciana
. Additionally, the students were able to see, in person, some science experiments as well as have hands-on participation.
Joseph Ferderbar Elementary School
Class of 2031 researches colleges in Avid class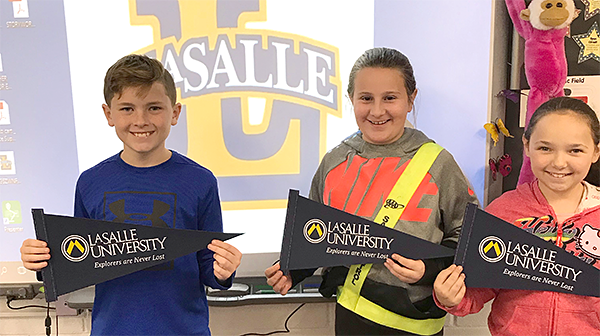 After researching a future Pennsylvania university, fourth grade students in the AVID pilot program at Ferderbar wrote a business letter to that school telling them about themselves and what they learned about the school. They also asked for the school to send some swag so they could start showing their school spirit as future students of the Class of 2031. Here are future Explorers with their pennants from La Salle University.

Mechanical pigs race snout to snout


A group of color, costumed mechanical pigs took center stage in November as the finale to a PTO fund raising drive at Ferderbar. Classes that participated in the annual drive were each allowed to decorate and enter a battery-driven porcine in a series of races held in the cafeteria. Winners received a banner for their classroom doors.

Herbert Hoover Elementary School
Hoover Hawks play online game with School Board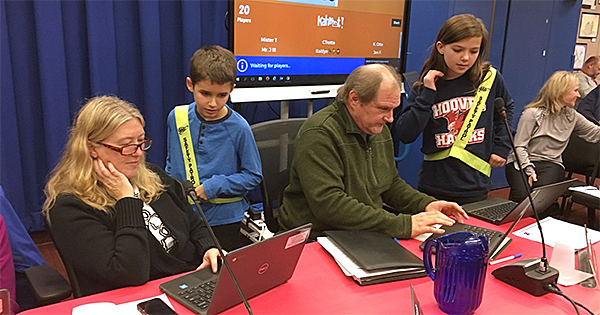 An energetic group of Hoover students descended on the Neshaminy School Board Public Work Session November 13 to help deliver a presentation featuring their school. Knowing that each Board member uses a Chromebook during meetings (similar to what students use in the 1:1 Technology program), Principal Dr. David Glennon figured this was an opportunity to highlight how technology is used in the classroom. He brought a group of fourth-grade students to help set up a game of Kahoot! -- an educational online platform used in elementary schools. The students assisted with logging in, after which the Board members were able to participate in a game-show style question & answer game.

Following the meeting, one Board member remarked that this presentation, which is one of a series that will feature each District school at upcoming Board meetings, was the most fun he's had at a meeting in years.


I-95 has some new signs. Now Hoover does, too!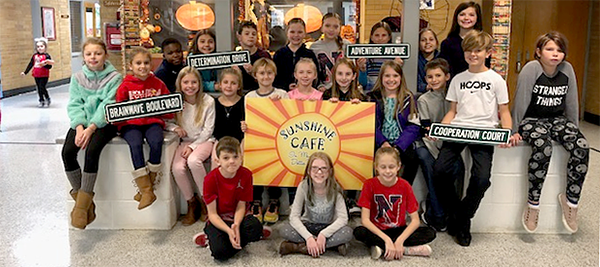 The Leadership Club announced that new hallway signs arrived at Hoover in November. The hallways have new names based on a school-wide vote held last year. The new hallway names align to the district mission of "empowering each child to become a productive citizen and a lifelong learner" as well as
The 7 Habits of Happy Kids
. The Positive Behavior Intervention and Supports Team at Hoover provided the funds for the new signs.
Walter Miller Elementary School
Miller and Sandburg girls compete in 5K race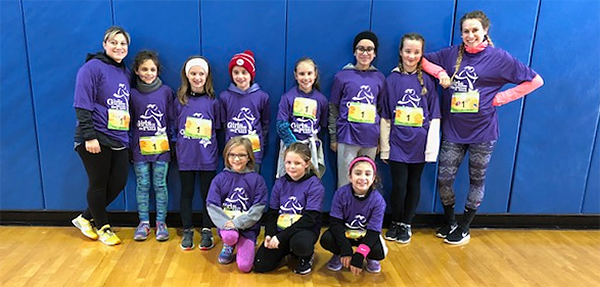 On November 17, Neshaminy participated in its first Girls on the Run 5K event. The team consisted of third and fourth graders from Walter Miller and two girls from Sandburg who were coached by Miller's fourth grade teachers, Katrina Hunt and Kindergarten teacher, Jodi Arnold and Taylor Ramella. Running is used to inspire and motivate girls, encourage lifelong health and fitness, and build confidence through accomplishment. Important social, psychological, and physical skills and abilities are developed and reinforced throughout the program. All the girls completed the 5k held in New Hope Solebury and did an amazing job.

Student Council leads school and community projects

| | |
| --- | --- |
| | Congratulations to the 2018 - 2019 Walter Miller Student Council representatives! Twelve fourth-grade students were selected to serve the school, and are busy helping to plan both community and school-wide activities. The students selected were: Amya Young, Rajan Iyer, Bella Pascale, Ellie Miller, Michelle Burara, Aubrielle Werline, Lily Kaczmarek, Leah Kaczmarek, Erjon Lezi, Natania Kurian, Rylee Golling, and Mattelyn Coor. A December community project is under way and students throughout the school are busy creating cards and crafts for Holiday Hope for Seniors, an organization that helps bring cheer to senior neighbors residing in area nursing homes. |
Albert Schweitzer Elementary School
Service project caps military lesson
Danielle Dyas and Dara Bullick's class worked hard throughout the month of November learning about the five branches of the United States Military. Mrs. Dozier, a parent, came to their classroom to teach students about the United States Air Force. Mrs. Abromovitz, a hearing therapist at Buck, was recorded to share her personal knowledge about the United States Navy. Specialist Collin Wilson, Mrs. Dyas's nephew, who is currently stationed in Afghanistan with the US Army, chatted with the students via Facebook Messenger.

This lesson ended with packaging extra Halloween treats families donated to be sent to some of our troops far from home. It was a meaningful way for the class to thank all of those who serve to protect our freedoms!


Tawanka Elementary School
Parents attend Kindergarten University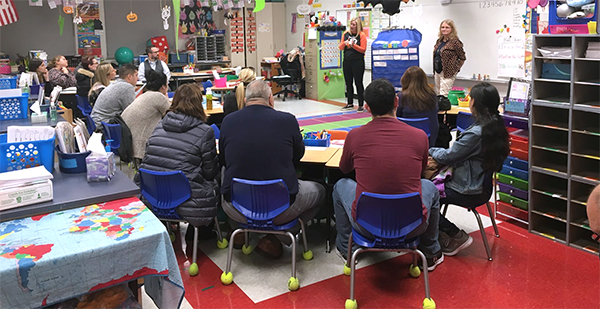 Parents of kindergarten students received an education of their own during the first-ever Tawanka Kindergarten Parent University held in November. During the program, they learned about the kindergarten curriculum and ways they can support their children's education at home.

First grade embraces lessons in thankfulness

| | |
| --- | --- |
| | The first grade learned about all aspects of Thanksgiving during multiple lessons using the Nearpod online program, read-alouds, Scholastic News, the social studies curriculum, and personal stories. To cap off the unit, the more than 160 first grade students created historical costumes, then gathered in the Tawanka cafeteria November 15 for a Thanksgiving feast. Each class prepared a verse of a Thanksgiving song and sang together. |
Maple Point Middle School
Over 100 veterans attend annual ceremony

November 11 marked the 100th anniversary of Armistice Day -- the end of World War I -- which has been celebrated as Veterans Day in the United States since 1954. The Maple Point MS 8th grade celebrated November 9 with over 100 local veterans who attended a ceremony and reception, a tradition that started in 2001 following the 9/11 attacks. You can see the entire ceremony below, starting with a collection of short interviews with the veterans recorded by a group of students during the reception.

Writers win Patriot's Pen Essay Contest
This year, four Maple Point eighth-grade students entered the VFW Post 6393 Patriot's Pen Essay Contest. All of their essays were recognized by the writing committee, and two were selected (from 20 total applicants) as winners -- Kyle Sullivan (first place) and Sean Tracchi (second place). The other two recognized were Ilysia Krzwonos, who was the student keynote speaker at the recent Veterans Day Ceremony, and Faiza Kahn. The winners will be celebrated with a dinner at the VFW Post in January.

Gannon Cup supports the Gift of Life Donor Program

On Wednesday, November 21, the 1st Annual Gannon Cup was held at Grundy Arena. This ice hockey charity tournament between Neshaminy and Pennsbury area teams supported the Gift of Life Donor Program in memory of Patrick Gannon, a Maple Point MS student who lost his life in an accident in 2016. Patrick was an organ donor whose gift has been used to benefit others in medical need.

Poquessing Middle School
Notes deliver a positive message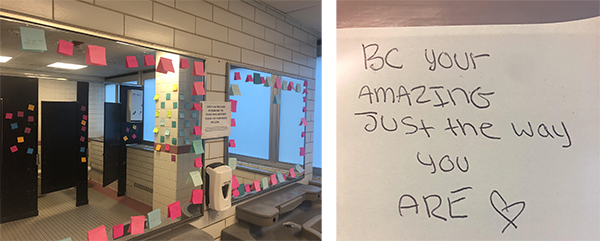 One eighth grade student began a self-generated positivity project in a girl's lavatory in the late afternoon on November 7th. In an matter of days, three of the girls lavatories at Poquessing were adorned with inspiring and encouraging messages. Poquessing's faculty and Parent Teacher Organization are proud of the individual students who began the movement and the girls who have added to this positivity.

Students accept Rachel's Challenge


Poquessing Middle School held their Rachel's Challenge assemblies November 26. Students signed a banner pledge to participate in random acts of kindness, stop prejudice, reach out to classmates, and other promises. The Challenge is named after Rachel Scott, the first victim of the Columbine school shooting in 1999. She kept diaries about kindness and reaching out to other students. Her story and those diaries were discussed during the presentations, and form the basis of activities and guiding principles of respect and kindness that are used all year at Poquessing.



Carl Sandburg Middle School
Song performance promotes tolerance and respect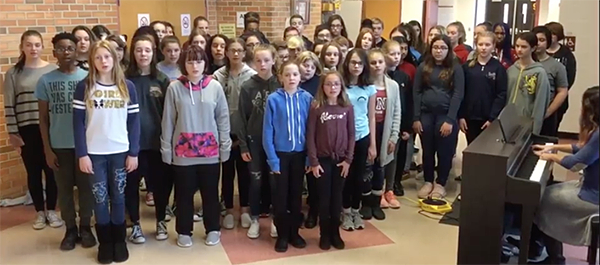 Members of the Carl Sandburg Choir recently performed the song "I Believe" for a video shared with their classmates and the community to encourage peace and respect in light of recent incidents of intolerance in our community and elsewhere. The lyrics of this beautiful, haunting song are based on a poem scratched into a cellar wall in Germany known to be a hiding place for Jews during World War II.

Neshaminy High School
8th grade musicians visit and perform with their NHS counterparts

8th grade choral performers from all three middle schools are visited Neshaminy High School November 19 for workshops with their high school counterparts, tours of the music and theater facilities, and rehearsal for an appearance at the NHS Choral Concert that night where they performed the Hallelujah Chorus.


8th grade string musicians from all three middle schools were invited to Neshaminy High School November 29 to learn about the music program they will be part of next year. They listened to a selection from the advance string instrument class, then joined them on stage to play a selection from Handel's Hallelujah Chorus. They returned to NHS that night to perform the song once again during the NHS Orchestra Concert that evening.

A similar showcase and concert for band musicians will be held on January 9.


Neshaminy's Got Talent - and charity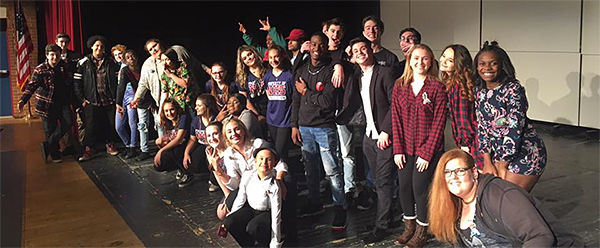 Neshaminy showed creativity and charity during the bi-annual Neshaminy's Got Talent show November 28. Twenty acts ranging from singers and hip-hop artists to classical and samba dancers filled Theodore Kloos Auditorium with their energy while raising money for the Sunshine Foundation, which funds wishes for children facing physical and mental challenges. This year they are raising money to send a boy and his family to Disney World. The show, which raised $1170 for the cause, is a project of the Neshaminy High School Dance Team and Interact Club, which is sponsored by the Langhorne and Feasterville Rotary clubs.

NHS app designers fight an invasive insect invasion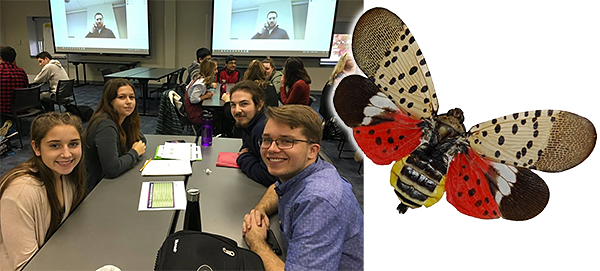 If you haven't seen a spotted lanternfly yet, you probably will at some point. This invasive bug damages trees and crops, and it is having a major impact on Pennsylvania business and agriculture. In response, a Spotted Lanternfly Hackathon was held at the Bucks County Intermediate Unit November 9 which included invited groups of students in grades 9-12, including a group from Neshaminy HS. The goal was to design a smartphone tablet app or digital platform to easily track, detect, identify and access information about the spotted lanternfly. Finalists from four regional Intermediate Units will be invited to the PA Farm Show in January to share their work with experts from around the state.

FCS majors collecting items for service members

The Family & Consumer Science majors class at Neshaminy HS is collecting Care Package items to be sent to military service members overseas until January 25, 2018. The Neshaminy community is invited to contribute to this cause -- donated items listed below can be dropped off at the NHS Main Office during business hours.

Items needed include: deodorant, baby wipes, Chapstick, sunscreen, cough drops, travel toiletries, granola bars, beef jerky, instant coffee, Tasty Kakes, chewing gum or other small packaged snacks.


Thespians take their show on the road

The Neshaminy HS Thespian Troupe revived their show
James and the Giant Peach
from last year for an encore performance at Maple Point MS November 28. They then took it on the road to North Penn High School on Friday November 30 for the PA state Thespian Conference, where they performed the show for over 1,000 students. The entire production, including staging, sound, lighting, costumes and make-up had to be set up in just two hours before that performance.
FBLA 5K Run/Walk donations race past expectations

On October 20, the Neshaminy High School Future Business Leaders of America (FBLA) club hosted their second annual 5K Run/Walk for Charity. This year the event was a benefit for the Leukemia & Lymphoma Society, the current Pennsylvania FBLA State Project. NHS chapter officers and members planned, organized and worked the event, solicited donations and encouraged family and friends to participate.

The goal was to raise $2000, but thanks to club members enthusiasm and genuine desire to help the community, donations came pouring in and the total reached over $3,000. The group can accept donations through April, so they are hoping that amount will increase. The funds will be presented to the charity at a state FBLA conference in April.

Marching Band takes third in state competition
Congratulations to the Neshaminy HS Marching Band who wrapped up their competitive season with a third-place finish and a season-high score of 93.7 at the Cavalcade of Bands championship in Hershey on November 10. And special thanks to the music staff and all the music boosters who have enthusiastically supported them through countless rehearsals, weekly competitions, Friday night performances, the Bucks Tour of Honor, and more. The
Road to Valhalla
(this year's theme) was built with hard work, dedication and lots of musical talent.
---
Alumni News
Langhorne pastry chef competes on Food Network show
It seems we can't get enough of TV cooking competitions, especially when it comes to holiday food. Pastry chef Van French, Jr., a 1992 Neshaminy HS graduate and owner of Van Earl's Cakes in Langhorne, is competing on the Food Network show
Gingerbread Showdown
. The four-week series started November 25 and continues for four weeks. Nine contestants are competing for a $25,000 grand prize.
This is not his first time on television. Van previously competed on
Cake Wars
and
Wedding Cake Championship
on the Food Network.
Neshaminy Update is published monthly during the school year and distributed to the Neshaminy community via email and web. To submit comments, suggestions or news items for consideration, please email Chris Stanley, Community Relations Coordinator.
Neshaminy School District

2250 Langhorne-Yardley Road

Langhorne, PA 19047

Joseph Jones III

Superintendent

(215) 809-6000

Neshaminy School Board

of Directors

Marty Sullivan - President

Bob Feather - Vice President
John Allen


Cyndie Bowman
Irene M. Boyle


Tina Hollenbach


Adam J. Kovitz
David Marrington


Stephen Pirritano

---
The Neshaminy community builds futures by empowering each child to become a productive citizen and a lifelong learner.