Calling all alumni!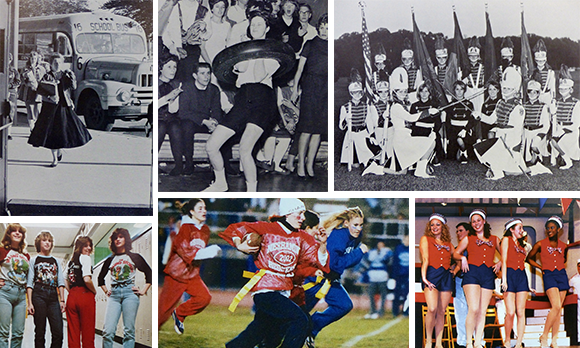 The Neshaminy Education Foundation is forming an Alumni Committee. Any local Neshaminy / Maple Point graduate who can attend occasional meetings and participate in this effort is welcome and encouraged to attend. The first meeting will be held

Wednesday, February 7, at 6:30 pm

in the District Administration Board Room at Maple Point Middle School. The committee will have the following purposes:


Seek ways to engage Neshaminy alumni with current District activities
Promote the exchange of information among classes, individual graduates and the Neshaminy community
Encourage alumni participation in District fund raisers and capital campaigns
Promote student internships, speaking opportunities, volunteer activities, school-community partnerships, and academic opportunities with Neshaminy alumni
Organize events and activities

Publicize the accomplishments and life stories of alumni as a means to inspire current students and the entire Neshaminy community
The timing and frequency of future meetings will be determined by the committee participants.





Welcome Workplace builds intercultural literacy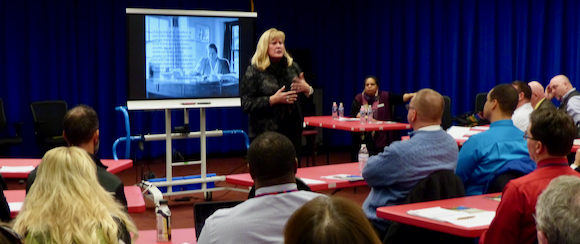 On January 17, Neshaminy administrators, teachers and support staff welcomed two representatives of Pearl S. Buck International. They introduced a program called Welcome Workplace, which offers resources and tools to promote an inclusive environment among our staff and in our classrooms. This ongoing program includes an organizational assessment, followed by a plan of action to promote inter cultural skills. Pearl S. Buck International, based in Perkasie, was formed in 1931 and offers a variety of programs and services that promote human dignity and understanding at home and around the world.



New student registration opens


Do you have a child ready to enter kindergarten next year or know somebody who does? Registration is now open, and the first portion can be completed online at the Central Registration website linked below. To be eligible for kindergarten, children must be five (5) years of age on or before September 1, 2018. To be eligible for first grade, children must be six (6) years of age on or before September 1, 2018.




Plaque honors former School Board member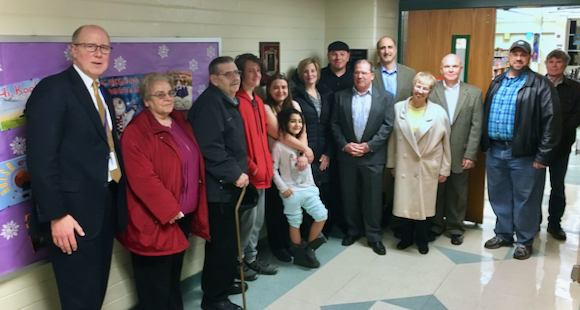 On January 23, Neshaminy was pleased to honor former Board member, husband and father Robert Sanna Jr., who passed away last year. A plaque marking his service to the board and the district was placed outside the library at Walter Miller Elementary, where his two children attended school. Members of the Sanna family, current and former Board members and district administrators attended a ceremony to dedicate the plaque and share their memories of Mr. Sanna.


Attendance calls introduced for ES absentees
| | |
| --- | --- |
| | All Neshaminy elementary schools will begin sending out automated messages when elementary students are marked absent from school. This system is scheduled to begin operating on Monday, February 26. If your child is marked absent, a message will be sent at approximately 11 am each school day. The goal of this service is to increase safety and facilitate tracking of students. |

Parents and guardians should still call their child out before 8:50 am if he or she will be absent. An automated phone call will still be generated even if the absence was reported. The district requests that all families check that their phone number(s) and email information is correct in Home Access Center to ensure that all regular and emergency messages will be received.


January We Build Futures Award winners
Superintendent Jones once again honored District staff who made significant contributions to fulfilling the district's mission or advance implementation of the Neshaminy Strategic Plan.

Those honored in January include (click on their names to see nominating information):




Congratulations to all award winners! More information about the We Build Futures Awards can be found on the district website here.


2018 - 2019 preliminary budget unveiled

Long before the current school year started, the Neshaminy Business Operations Office was already busy on the budget for the 2018-2019 school year. At the January 16 Business Operations Committee meeting, the Proposed Preliminary Budget was unveiled. This is the first part of the public process which is expected to be completed in June with the approval of a final budget. Until that time, the Business Office will be working to balance expenses and revenues with input from the School Board, the Business Operations Committee and the public.

Current projected expenses are $183.1 million and projected revenue is $175 million. Over the next several months, this gap will be closed by cutting expenses, seeking new sources of revenue, and considering a tax increase or draws from the reserve fund. The maximum allowable tax increase for 2018-2019 under the Pennsylvania Act 1 Index is 2.4%. The School Board plans to apply for an exemption from the state to exceed this amount, if needed, but in past years, the district has not used this option. Last year, property taxes were raised for the first time in 8 years, but only by the Act 1 index  of 2.5%.

The primary budget challenge has been a mandatory increase in contributions to the state education pension system. Since 2009 the rate has been increased from 4.8% to 34.2%, and will continue rising for several years to counter unfunded liabilities.


Senior tax assistance offered


The 2017 Neshaminy School District Property Tax Assistance Program started in January 2018. The purpose of the program is to provide property tax relief to our senior citizens. The program is available to homeowners who will reach the age of 65 by December 31, 2017, and will provide tax rebates of up to $650 for senior citizens whose household income is less than $20,000. This includes reporting half of Social Security or Railroad Retirement Benefits and 100% of any other income.

The District makes every effort to send a rebate application to those that received a rebate in the past. For those that have not received a rebate in the past, application forms are available on the Neshaminy School District website (link below), at your local tax collector's office or by U.S. mail by calling the Business Office directly at 215-809-6520.

This program is entering its 40th year. Since 1977, rebates totaling over $2.5 million have been paid by the school district, with over 230 senior citizens participating last year. The goal is to help partially overcome today's high cost of living for those on fixed incomes.


---
Pearl S. Buck Elementary School



Kids Club donates coat hooks

Neshaminy Kids Club generously donated new coat hooks to Pearl Buck earlier this year to help keep our 3rd and 4th grade coats off of the floor. NKC has a long-standing relationship with Neshaminy, and, over the course of time has donated all of the Lexan hooks seen throughout Pearl Buck Elementary School.


Sock drive helps the homeless

The 3rd grade collected 1,199 pairs of socks during the holiday season. The socks were distributed to Bucks County Homeless Shelters, shelters in Kensington, and to the school nurse for distribution to families in need within the community.


Joseph Ferderbar Elementary School

Kindergarten and 4th grade honors local police



Kindergarten and fourth grade students took part in an activity to celebrate the Dr. Martin Luther King Jr. Day of Service in January. They made goodie bags for local police officers, who stopped by the school to greet the children and pick them up.

Service learning can never begin to soon. Even the youngest students learned about giving back to the community along with their fourth grade partners.

Herbert Hoover Elementary School



Teacher named Keystone Technology Innovator


First grade teacher Ann O'Hara was named the Keystone Technology Innovator of 2018 for Hoover Elementary. KTI is a state-wide program that celebrates model teachers throughout Pennsylvania that bring new ideas, best practices and innovative ways of integrating technology to capture the imaginations of their students. One educator per school can be nominated each year.

Ann will be part of this network for the entire length of her career and will be invited to attend special events and take advantage of professional development opportunities. She will also have the opportunity to apply to attend a one week summer institute in July, 2018.



Early birds get tutoring, club activities

Long before the first bell rings on Tuesdays and Fridays at Hoover, students are busy participating in a variety of activities during the school's Morning Tutoring Program. The second session of this program for the year started in early January. Teachers have invited students to participate in a variety of tutoring programs, Academic Enrichment activities, and Community Service clubs.


Walter Miller Elementary School

Food drive nets a big donation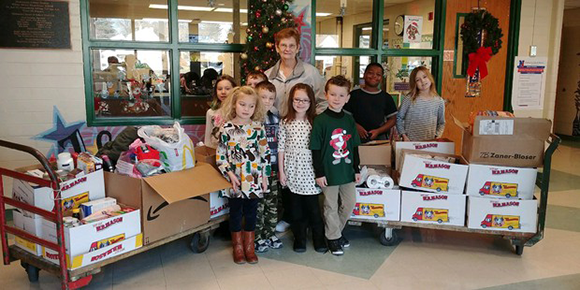 In December the Walter Miller community collected food items and other necessities to help stock Mary's Cupboard Food Bank in Levittown.


Albert Schweitzer Elementary School



Students tackle real-world projects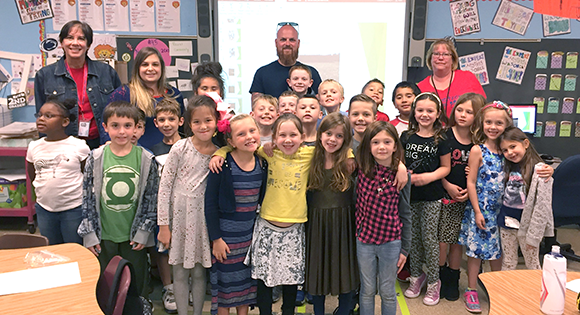 Teachers and students are beginning to engage in PBL, or Project-Based Learning in their classrooms. The focus of PBL is to encourage collaborative real-life problem solving around a driving question. Kym Cridland, second grade teacher at Schweitzer, has been working on engaging her learners and sharing work using technology tools. Students are also presenting their research to authentic audiences including parents and the outside community. Here, the second graders are meeting with an expert from Shadybrook Farm to ask questions about soil, planting, and plant growth in a unit entitled, Got Growth?


Tawanka Elementary School

Students complete MLK Day projects

In honor of Dr. Martin Luther King Jr., students at Tawanka participated in a variety of projects. Included was a first grade project to make placemats to be used at local Shared Meals in the community. These meals are for needy people in the area. The children joined together in their common pod to color place mats as their service project. In another activity, students in Mrs. McNickle's fourth grade class viewed a clip of the famous 'I Have a Dream' speech then wrote essays about their own dreams for themselves and the entire world.


EarlyAct Club collects sneakers for a cause



The EarlyAct Club at Tawanka collected 173 pairs of sneakers for their Dunk Your Kicks campaign. The purpose of this unique community service project was not only keep quality sneakers with plenty of life left in them out of landfills but to also raise money for pediatric cancer research by selling the sneakers at minimal cost to those that need them. This is a national campaign sponsored by the Max Cure  Foundation.

EarlyAct is a community service club sponsored by Rotary International.

Maple Point Middle School



Hundreds join MLK Day of Service project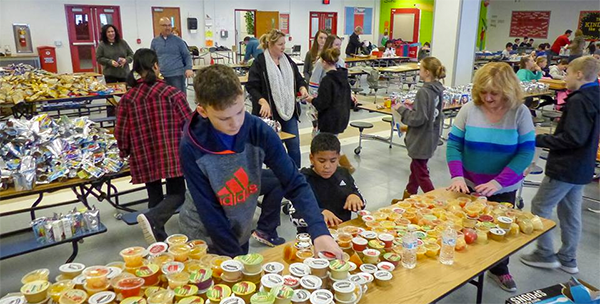 Over 300 students spent part of the Dr. Martin Luther King Jr. holiday on January 15 in the Maple Point cafeteria helping a volunteer group that is reaching out to the homeless and drug addicted of Bucks County and Philadelphia.

The students were packing Blessing Bags for the non-profit Philadelphia-based Angels in Motion outreach program. The bags are filled with a variety of snack items along with resource information for those facing life on the street. Volunteers from Angels in Motion distribute the bags throughout the year as a way to offer help, resources and compassion to those that may not feel valued in modern society. The group was started by a mother who delivered snacks to her drug-addicted son who was living on the streets of Philadelphia to maintain contact and draw him to the help he desperately needed.

The MLK Day of Service program was the brainchild of fifth-grade teacher Beth Hagedorn, who has volunteered with the group. Student Council advisor Neil French picked up the idea and organized his students to begin collecting donations for the effort in November. All the proceeds from a recent school dance were used to purchase much of the food and drink used to create over 1,000 Blessing Bags for the group. The Maple Point PTO provided assistance during the campaign and volunteered during the Day of Service.




Physical Education Department still needs your votes

| | |
| --- | --- |
| | The Maple Point Physical Education Department needs your help to win the $25,000 Dannon Back to School contest from Project Fit America. The money will be used for outdoor fitness equipment on Maple Point property that the community can use also. The voting for this contest was extended until February 15. The top four schools with the most votes by then will each win the $25,000. One vote per email address is allowed daily. |
Poquessing Middle School

Poquessing celebrates the legacy of MLK with service projects


In January, Poquessing held its 3rd Annual Week of Service in honor of Martin Luther King, Jr.  Students from Student Council, Friends of Rachel, Peer Mentoring, the Tri-M Music Society, the wrestling and cheerleader teams, and the Harry Potter Club, Environmental Club and Pottery Club did their part to make our community and world a better place. The goal was to get as many students as possible from across the school to be involved in service. All told, about 200 students participated!
 
Student Council  and Friends of Rachel visited the Attleboro Nursing Home in Langhorne to play games with the residents.  They also gave cards to each person made by the school's Peer Mentoring group.  The Wrestling team made Breakfast bags and cards for Aid for Friends, an organization that helps shut-ins.  The pottery club is making bowls for the organization, too. The cheerleading team made chocolate covered pretzels for The Homeless Coalition and the Harry Potter club decorated cards for them as well. The Tri-M Music Society made blankets for pediatric patients at St. Mary Hospital.  Finally, the Environmental Club went to Ferderbar Elementary to read books to kindergarten, first and second grade students.


Poquessing named an Oracle Academy institution

As part of the Business, Computer and Information Technology (BCIT) Department's commitment to advancing students' computer science and STEM skills, Poquessing has been approved as an Oracle Academy institution. With this membership, students will have online access to free software, learning materials, curriculum, resources and support.  All 8th grade BCIT students will be using Oracle Academy's tools as they receive hands-on experience and classroom instruction with Java programming basics through the Alice coding language.  As an Oracle Academy institutional member, Poquessing is proud to join a worldwide community of schools, universities and professionals focused on empowering students with the skills needed to be college and career ready in today's technology-driven economy.


Carl Sandburg Middle School

What's Up Sandburg? New website has the answer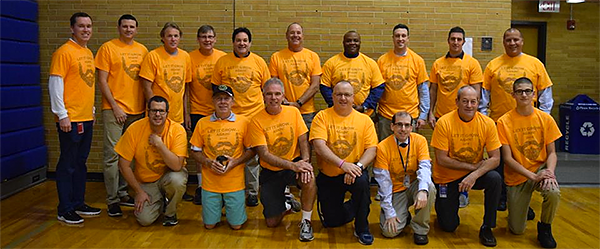 A brand-new online news website for Carl Sandburg Middle School made its public debut in January. Students will be contributing articles, photos and videos throughout the year about the many activities happening throughout the school to share with Sandburg students, staff and the community.



www.WhatsUpSandburg.com
Neshaminy High School

Musicians honored with festival invitations


Congratulations to all the Neshaminy HS musicians chosen to perform at the Pennsylvania Music Educators Association District 11 2018 festivals. The Band Festival started January 10 and runs through mid-February. The honorees are:

Band members: Julianna Schwab, oboe; Jarod Mellus, clarinet; Joseph Stanford, tenor sax and Schuyler Janzen, trumpet.

Orchestra members: Julianna Schwab, oboe; Jarod Mellus, clarinet; Schuyler Janzen, trumpet and Vincent Angeline bass.

Choir members: Madison Galvelis, Melanie Moyer, Adrianna Fisher, Olivia Andrews, Hannah Dimemmo, Eddie Taminini, John Lamond, Ben Dean, Evan Sleppy, Greg Drapkin, Ricky Moyer, Connor Watson and Brian O'Connell.



Cheerleaders shine in state competition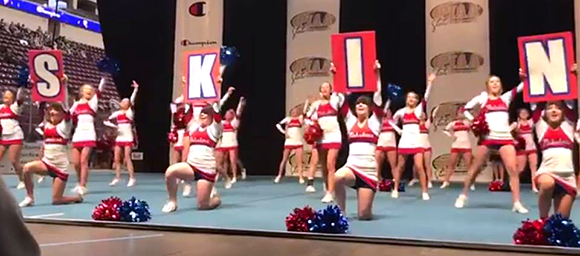 Congratulations to the Neshaminy High School Varsity Cheerleading team who not only made it to the 2018 PIAA Competitive Spirit State Championship in Hershey January 19 and 20 but also finished in the top 10 for their division.


The Demon Barber of Fleet Street comes to Neshaminy




Neshaminy High School presents the Stephen Sondheim musical

Sweeney Todd

February 1 through February 4 in the Theodore Kloos Auditorium. This musical thriller based on a Victorian-era serial first opened on Broadway in 1979 and has remained popular ever since. Tickets are available at the school and at the door for $10 each. Show times are 7pm Thursday, Friday and Saturday; 1pm on Saturday and Sunday.



Cinderella's Closet opens for prom season

Neshaminy's Cinderella's Closet is back and still turning dresses into dreams. Each year students in Family & Consumer Science classes have been collecting, cleaning and repairing previously worn prom dresses and selling them at a deep discount for their fellow students. These dresses are in top condition and can be purchased in C117 for only $20.


Highlight film features a familiar voice
,
The annual Neshaminy Football Banquet was held at the Falls Manor Banquet Hall on Monday January 15. This year, videographer Jack Haston, a 2015 Neshaminy graduate, produced an introductory highlight reel of the 2017 season featuring a very familiar voice - legendary Philadelphia Eagles announcer Merrill Reese.



SPIN presenting drug threat seminar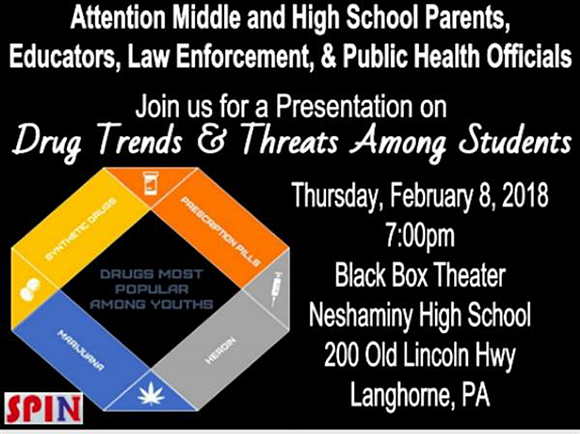 By now almost everybody has heard about the opioid drug crisis sweeping the country. But not everybody knows how extensively it has affected our own community. The Student Parent Information Network (SPIN) at Neshaminy High School is holding a valuable informational seminar on Thursday, February 8, 2018, in the Black Box Theater at 7 pm. Titled

Drug Threats among Students

, this program will feature experts delivering the latest information and strategies to fight this epidemic and help those in need.


---
Neshaminy Update is published monthly during the school year and distributed to the Neshaminy community via email and web. To submit comments, suggestions or news items for consideration, please email Chris Stanley, Community Relations Coordinator.
Neshaminy School District

2250 Langhorne-Yardley Road

Langhorne, PA 19047

Joseph Jones III

Superintendent

(215) 809-6000

Neshaminy School Board

of Directors

Marty Sullivan - President

Bob Feather - Vice President
John Allen


Cyndie Bowman
Irene M. Boyle


Tina Hollenbach


Adam J. Kovitz
David Marrington


Stephen Pirritano

---
The Neshaminy community builds futures by empowering each child to become a productive citizen and a lifelong learner.