Entrepreneurs make generosity a class project




Every year the Neshaminy community reaches out during the holidays to make sure that families in need have enough food for their celebrations. Through the efforts of students, staff, clubs, PTO volunteers, community members and local businesses, hundreds of families are provided holiday meals, gift cards, and even toys to make the season a little brighter.

The massive annual Holiday Food Drive at Neshaminy High School is an example. From Thanksgiving until the end of December, a classroom in the Counseling Center is turned into a warehouse where thousands of donated items are sorted and packed for delivery. This drive is coordinated by the Student Council at NHS, and involves many other students and clubs. With help from school counselors, social workers, administrators and school nurses, this confidential service makes sure that the right items get to those in need.

In response to a growing need for similar services all year long, the Business Entrepreneurship class at NHS started gathering and organizing a year-round food pantry in March; it opened it for business over the summer. This project not only provides these students the experience of operating a business, but will also be a focal point for multiple donation programs in the school. It provides students the opportunity to advocate for each other, building community by recognizing the needs of their fellow classmates.





Year-round food pantry at NHS


One of the first challenges was funding the project so the class set up a crowd funding page at DonorsChoose.org and raised over $900 to purchase shelving, boxes, and other needed materials.

The students are hoping their enterprise will continue to grow and have been seeking partnerships within the school and outside to ensure a steady flow of donations into the future.
Hour of Code spans the grades

| | |
| --- | --- |
| Neshaminy students participated in Hour of Code across the district during the week of December 4-8. At the high school, students viewed videos showcasing the international event with celebrity endorsements and the importance of computer science. They also learned more about job opportunities available right here in Pennsylvania in computer science and information technology. | |

Activities provided by Code.org enabled students to experiment with code using game applications. They also learned to create code working obstacle courses and applied sequencing through Java programming languages. Students worked with encryption activities and text compression exercises. The text compression lessons taught students how to reduce the size of music files as repeated syntax was removed and replaced with indicators to reduce large percentages of file space.

Eighth grade students were creating their own personal web pages using HTML. They also completed coding activities on code.org/learn. "Play That Tune App" was very popular. It featured a piano keyboard and had students play different musical notes using the code provided. Students also enjoyed the "Create Your Own Sports" activity. They coded a sports player to move and shoot the basketball at certain times; timing was important to consider when coding the shots. The seventh grade continued coding in the program Scratch. Some students also accessed the code.org activity "Google Logo" which allows users to customize and animate the Google logo using Scratch code. Other students enjoyed creating their own unique version of the Google logo. Fifth grade students used drag and drop visual blocks to write code to solve a series of puzzles with popular animated series. Fifth grade students also completed the Google Doodle challenge which encourages students to find the shortest, most efficient sequence of code to accomplish a task.

Students in the elementary schools logged into practice coding using the visual block programming language, Scratch. This language, developed at the Massachusetts Institute of Technology Media Lab, encourages children to think creatively, reason systematically and work collaboratively. They learn key coding concepts such as sequencing and loops in increasingly challenging activities.

Hour of Code is an international effort designed to reach millions of students all across the globe for the purpose of demystifying computer science and showing that anybody can learn the basics.



New and returning School Board members welcomed




Five School Board of Directors members were sworn into office during a reorganization meeting on Monday December 4. Cyndie Bowman (Region 1), Adam J. Kovitz (Region 2) and David Marrington (Region 3) are all new to the Board; John Allen (Region 2) is returning after previously serving as a Board member and Irene M. Boyle (Region 3) is a continuing member. They join current members Bob Feather (Region 2), Tina Hollenbach (Region 1), Stephen Pirritano (Region 1) and Marty Sullivan (Region 3) who were not up for election this year.

The Board appointed Marty Sullivan as School Board President, and Bob Feather as Vice President. The next scheduled meeting is a Public Work Session on Tuesday, January 9, 2018, 7 pm at Maple Point.




Buck teachers pilot a new kindergarten screening tool



Pearl S. Buck Elementary School kindergarten teachers Amanda Arner, Carol Gallagher, Judy Oswald, Sally Deitrick, and Sandra Schaeffer piloted a new program this year designed to help them better meet the needs of their students. The Pennsylvania Kindergarten Entry Inventory (PA KEI) is a rigorous screening of incoming kindergarten students used to assess the academic and social skills of each child.

The PA KEI is aligned to the Pennsylvania Early Learning Standards and Pennsylvania Core, but is not a test. The Pearl Buck teachers determined their student's skills through classroom observation, adding input from families and other specialists in the building. The PA KEI is not meant to track children but rather to help teachers with their instructional decisions.

The data gathered will be used to help the teachers better prepare for the remainder of the school year and will also be used by the Pennsylvania Department of Education to inform policies and procedures. The results of their efforts will extend beyond the boundaries of Neshaminy School District and improve kindergarten education across the state.


December We Build Futures award winners


Superintendent Joseph Jones once again honored District staff who made significant contributions to fulfilling the district's mission or advance implementation of the Neshaminy Strategic Plan. Those honored this month include:

Congratulations to all award winners! More information about the We Build Futures Awards can be found on the district website here.


2018-2019 calendar posted

The district calendar for the 2018-2019 school year was approved at the November 28 Board meeting and is now posted on the district website below.



Senior tax assistance offered


The 2017 Neshaminy School District Property Tax Assistance Program will begin in January 2018. The purpose of the program is to provide property tax relief to our senior citizens. The program is available to homeowners who will reach the age of 65 by December 31, 2017 and will provide tax rebates of up to $650 for senior citizens whose household income is less than $20,000. This includes reporting half of Social Security or Railroad Retirement Benefits, and 100% of any other income.

The District makes every effort to send a rebate application to those that received a rebate in the past. For those that have not received a rebate in the past, application forms will be available beginning in January 2018 on the Neshaminy School District website (link below), at your local tax collector's office or by U.S. mail by calling the Business Office directly at 215-809-6520.

This program is entering its 40th year. Since 1977, rebates totaling over $2.5 million have been paid by the school district, with over 230 senior citizens participating last year. The goal is to help partially overcome today's high cost of living for those on fixed incomes.


---
News from our Schools
Pearl S. Buck ES
Playground renovations nearing completion



Playground renovations at Buck are nearing completion. The cost of new climber equipment, borders and rubber mulch has been donated by the PTO, with the District Facilities department lending their support for the site preparation. The transformation took several weeks, and students have enjoyed recess in other areas as they anticipated their new playground. The renovations are possible due to the continued support by Buck families for PTO fundraising efforts .


Students create cards for USO show


Students in Mrs. Williams, Mrs. Oswald, Mrs. Beck, Mrs. Budman, Mrs. Sulon, Mrs. Deitrick, and Mrs. Raab's classes collectively made a total of 240 holiday cards and letters that were distributed to veterans during a USO-style show held at Maple Point Middle School on Saturday, December 2.


Joseph Ferderbar ES
Fourth grade sings and shops for the community



The fourth grade at Ferderbar had a busy December. On December 15, the 4th Grade Community Chorus visited the Attleboro Community in Langhorne to sing for the residents. Following their performance the group took time to interact with the seniors, asking them about their holiday memories and what songs they enjoy the most.

Fourth graders also visited the Giant supermarket in December with some help from parent volunteers to purchase items for their annual holiday food drive. The money for their purchases came from the Elf Fund Dinner in November, which raised $2775 this year.
Herbert Hoover ES


First and third graders collaborate on holiday cookbook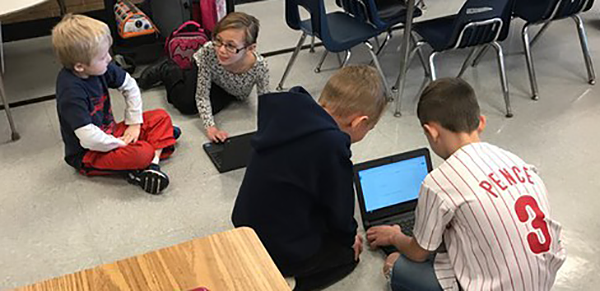 Mrs. Gorman's third grade students helped Ms. Pomponio's kindergarten students complete Holiday Cookbook projects in December. The cookbooks will be sent home to parents as part of a Functional Writing unit. Kindergarten students came up with a favorite recipe, then looked at real cookbooks for inspiration. The third grade students used their Chromebooks to show the kindergarten students how to use Google Docs to type their recipes, add pictures, and how to use the Internet to do some research. The students are looking forward to sharing their recipes with their parents in the near future.


Senior guests enjoy a holiday concert

A group of senior citizens from the Attleboro Community in Langhorne visited Hoover ES on December 19, where they were treated to a selection of holiday songs from the 3rd and 4th grade musicians.



Walter Miller ES
Second grade shops for a brighter holiday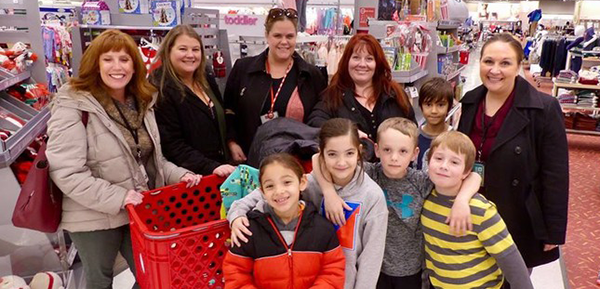 The second grade classes partnered with Family Services Association of Bucks County to provide a complete selection of holiday gifts and extras for families in need served by the group. The students visited the Target store with their teachers and parent volunteers to purchase items with money raised at the school. Items included toys, books, and utilitarian needs such as diapers and baby items. Over a dozen children from several families will have a brighter holiday this year thanks to this effort!

In another effort to help the community, students throughout the school collected items for Saint Mary's Cupboard in Levittown from November 20 -December 13.



Families enjoy Superkids Family Literacy Night

What? You were playing Tic Tac Toe, BINGO, and Jeopardy… at school? These are just a few of the fun activities students and their families enjoyed while practicing their reading skills at Miller's first Superkids Family Literacy Night. Students with their parents at their side worked on their phonics, comprehension and writing skills in entertaining ways. Students created word ladders ending with a Superkids character's name at the top rung of the ladder as well as writing a postcard to their favorite Superkid.


Albert Schweitzer ES
Schweitzer gathers Holiday Help


The annual Schweitzer Holiday Help program brought students, staff, families and the community together in December. The following organizations also participated: the Middletown Township Lion's Club, the Middletown Township Police, the Middletown Community Foundation, and the Queen of the Universe parish and parishioners. Many families are receiving gifts and gift cards for the holiday season thanks to this effort. Schweitzer Student Ambassadors also collected money from homerooms to have donations to shop for holiday gifts. The community donated more than $900. The Ambassadors shopped with Mrs. Pulak at Target and bought gifts for many families.


Who are the people in your neighborhood? Officer Robison, for one


Middletown Township Police Officer Melissa Robison visited Mrs. McHugh's kindergarten class as a guest speaker for their social studies unit they're doing on 'My Neighborhood.' The class is participating in a project-based learning activity that requires them to understand and learn about their neighborhood, learn how they are a part of their neighborhood, and make connections to people and things in their neighborhood. Officer Robison came in as a guest expert to talk about her role as a police officer and how she helps the local community. Students were also encouraged to be a helper in the community and the class talked about ways they can support their community as Schweitzer students.


Tawanka ES
Tawanka shares holiday joy at Attleboro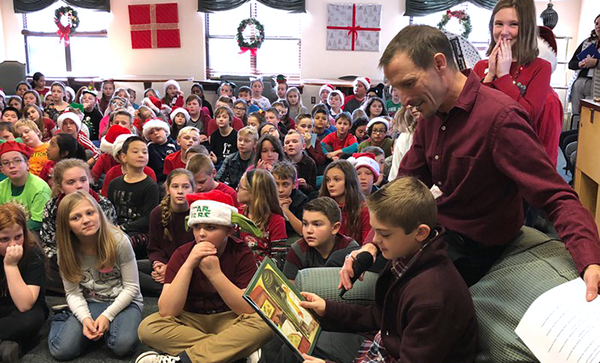 Fourth grade students visited the Attleboro Community in Langhorne to sing some holiday songs, listen to instrumental performances, read a holiday book and spread some holiday cheer among the residents.


Gingerbread Land is a sweet treat

| | |
| --- | --- |
| | The kindergarten wing at Tawanka was fully decorated once again for the month-long Gingerbread unit in December. Each classroom featured ornate gingerbread house decorations, and students participated in a variety of related activities from counting games to cookie decorating. Families were invited to join in the festivities toward the end of the unit to help their students decorate their own gingerbread man. |
Maple Point MS


Chorus partners with autistic support class


A few members of the 6th-grade chorus at Maple Point MS joined a group of students in the autistic support class for a holiday concert and some games on December 19. This unique partnership has the students interacting on a regular basis, learning songs together and building friendships.


Music students meet a Philly POPS star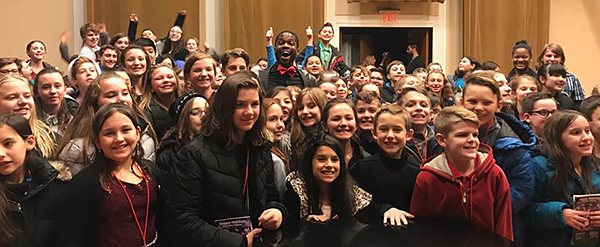 Maple Point MS music students enjoyed a trip to the Philly Pops Christmas Spectacular Sounds of the Season at the Kimmel Center in Philadelphia. There they had the opportunity to meet vocalist Justin Hopkins, the highlighted soloist for this concert, following the show and ask questions about music and the music business.


Second annual Senior Soiree draws over 300 guests


Maple Point Middle School fifth-graders hosted over 300 senior citizens for brunch and a holiday concert during their 2nd Annual Senior Soiree on December 20. The day began with a full brunch in the cafeteria -- provided courtesy of the PTO -- followed by a holiday concert. During the brunch the 5th-grade students were asked to interview their guests and record their answers in a 'Recipe for Life' booklet.



Physical Education Department needs your votes


The Maple Point Physical Education Department needs your help to win the $25,000 Dannon Back to School contest from Project Fit America. The money will be used for outdoor fitness equipment on Maple Point property that the community can use also. This is a voting contest lasting from January 5-31. The top four schools with the most votes at the end of the month will each win the $25,000. One vote per email address is allowed daily.


Poquessing MS
Poquessing gives back with community outreach efforts

The Poquessing Middle School community, in partnership with Ferderbar Elementary School, continued its longstanding traditions of helping 120 children have a better holiday. Our donors are: Poquessing students, parents, and staff; Poquessing Student Council; Poquessing Tri-M Music Society; Poquessing Interact; Kennedy Ford; Lower Southampton Athletic Association; Queen of the Universe Church; Feasterville Rotary; Assumption BVM Church; and Neshaminy School District residents.

The Yearbook Committee made approximately 40 cards which were sent to Sunday Morning Breakfast Mission. The cards were distributed to the homeless.

The Poquessing Interact Club has been working on sending Happy New Year's cards to soldiers overseas by working with "A Soldier's Hands." The organization sends care packages to soldiers around the world. The Interact Club will send a New Year's card from every Poquessing student with those care packages when they return from the winter break.



Club collects books for recycling

The Environmental Club held a

Read and Recycle 2017

event throughout December. They collected pre-read elementary books for distribution to kids in need.


Carl Sandburg MS
Choir sings National Anthem at Temple game

The Sandburg Middle School Choir was honored to perform the National Anthem at the start of a Temple University basketball game on December 9.



Elf sings loud for all to hear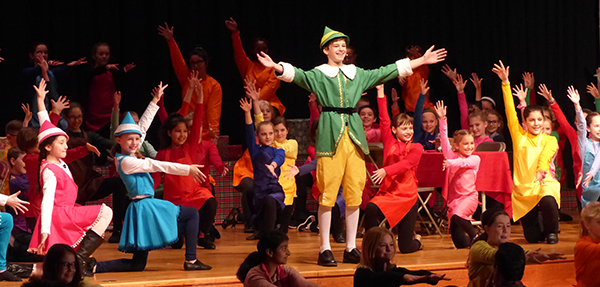 Despite some winter weather, the house was packed December 14-16 as Sandburg presented the musical version of Elf. Based on the 2003 movie, the story follows the journey of Buddy, a human elf who finds himself in New York City confronting his father and a lack of Christmas cheer. Sandburg staged the show with two casts, both in-school, for their fellow students and visitors from Albert Schweitzer ES and Walter Miller ES, and on the evenings and weekend for three public performances.



SPIRIT club assembles holiday stockings


Carl Sandburg Spirit Club students assembled holiday stockings on December 5 to be donated to the Salvation Army holiday drive. Last year they filled 93 and they increased their goal to filling 100 this year. They collected items for the stockings through donations from the Sandburg community.


Neshaminy HS
Future Business Leaders take 53 awards at regionals


Congratulations to the 53 NHS Future Business Leaders of America Regional Competition winners. The competition was held at Delaware Valley University on Wednesday, December 20. Along with Neshaminy, FBLA chapters from Central Bucks East, West and South, Council Rock North and South, Morrisville, New-Hope Solebury, Palisades, Pennridge, Pennsbury, Quakertown and William Tennent competed in various business events. Forty-six Neshaminy FBLA students have qualified to compete at the State level in Hershey this April.



FIRST PLACE WINNERS:



Individual Events:
Samantha Cavallo—Intro to FBLA
Drew Hindman—Insurance and Risk Management
Ryan Maher—Personal Finance
Athena Strippoli—Accounting 2
Jake Van Dine—Computer Problem Solving

Team Events:
RJ Christie and Andrew Schmitz—Emerging Business Issues
Anastasia Lebotesis and Brian Ostaszewski—Marketing
Briana Fredericks, Danielle Helstrom, Jessica Manning, Tori Silva & Kayla Trahey—Parliamentary Procedure


Two athletes named Runners of the Year


Congratulations to two Neshaminy HS cross-country runners who were recognized as the Golden Teams Cross Country Runners of the Year by the Bucks County Courier Times -- senior Rusty Kujdych and sophomore Kaylee McCullough. Rusty was the state 3A champion, and Kaylee was one of the top finishers at Districts and States from the area.


Choir wins radio competition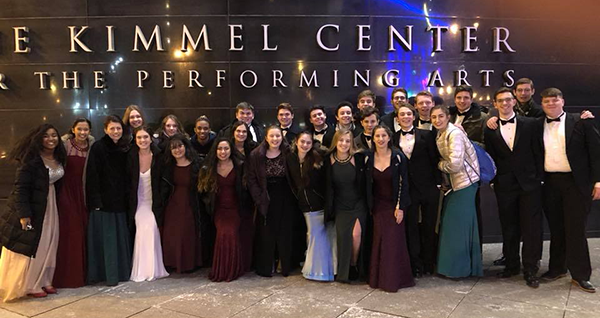 The Neshaminy Select Choir under the direction of Kristin Nichols went on a magical ride in December.

The group entered the 101.1 More FM Christmas Choir Competition in the 9-12 division with the a capella song,

Text Me Merry Christmas

from the group Straight No Chaser. After two rounds of public voting on the radio station's website, Neshaminy was declared the winner early in the morning on December 8. The group won the same contest in 2012 when the station was called B101.

The prize was $5,000 for the Neshaminy music program and the opportunity to perform on stage with the Philly POPS at their Christmas concert on December 14. The Select Choir was featured heavily on Philadelphia media starting with a live appearance on the Fox29 Good Day Philadelphia program on December 8 broadcast from the Theodore Kloos Auditorum during the Neshaminy High School Holiday Concert. Their song was placed in the rotation on the radio station's holiday play list and will be heard throughout the season, and they appeared live in-studio to perform it once again on December 18.

Their win comes on the heels of a second-place finish in the K-8 division of the same contest in November for the Poquessing Middle School Select Choir. They sang

Auld Lang Syne

for their entry and won $2,000 for the music program.



Student talent on display at literacy fund raiser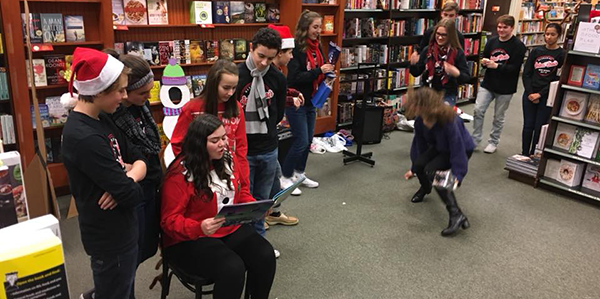 Neshaminy High School took over the Barnes & Noble store at Neshaminy Mall on December 15 for a literacy fund raiser. The various activities featured included the NHS Select Choir, a performance by the Roadies, students reading both original works and children's books, student gift wrappers and even red and blue frappucinos at Starbucks. The Select Choir performed their award-winning rendition of the song Text Me Merry Christmas for diners in the food court flash mob-style and performed more holiday selections at the store itself.



Roadies bring home thespian awards


The Neshaminy HS Roadies took several awards at the annual PA State Thespian Conference held in York from November 30 to December 2. They performed the one-act play

Mirrors,

and junior Madison Galvelis earned the title of 'All-Star Cast Member.' Galvelis scored a superior rating along with classmates Olivia Andrews, Gregory Drapkin, Adrianna Fisher, James Lamond, and Brielle Lewandowski. They have been invited to perform at the International Thespian Festival at the University of Nebraska - Lincoln in June.


Multi-lingual holiday tradition continues


The Foreign Language Department at Neshaminy HS had each class sing holiday classics in the hub throughout the day on the final day of school before the break -- in the language of their class. Here are samples of three songs; watch for a surprise celebrity appearance toward the end of the final song!





Work of NHS artists featured on holiday cards



Five Neshaminy HS artists had their work chosen for the Neshaminy Education Foundation greeting cards. These were sold at each elementary and middle school office for $5 per pack of all five to benefit the NEF. The foundation is planning future cards for the end of the school year and holidays also featuring student art.


---
Neshaminy Update is published monthly during the school year and distributed to the Neshaminy community via email and web. To submit comments, suggestions or news items for consideration, please email Chris Stanley, Community Relations Coordinator.
---