A horse is the source
for class project, of course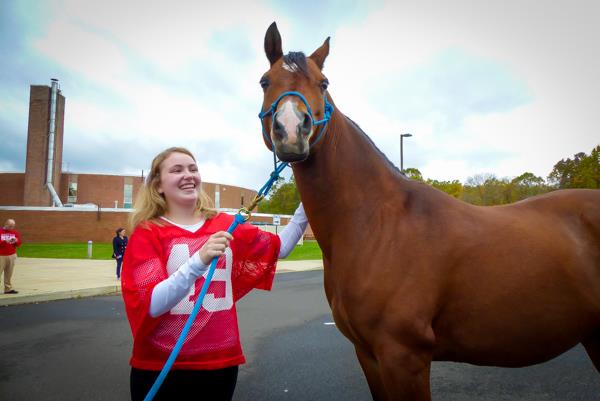 Neshaminy High School senior Tori Gardener brought her passion for horses to school -- literally -- as part of an English 12 class project on November 2.

To the delight of her classmates who gathered next to the bus line outside the school just around lunch time, Tori guided Pressly, a 9-year-old male Arabian around the parking lot led by a rope. She stopped to deliver her presentation, which centered on the role of Pressly as a therapy horse. Tori explained that horses can either provide therapy to the riders, or the riders can provide therapy to a horse. In her case, Tori says Pressly acts as therapy for people.

"A horse can tell you something that you might not even know about yourself, it's in your subconscious and the horse can tell you that," she said.

The presentation was part of what her English teacher, Jessica Cohen, calls a 'Genus Hour.' In this new activity, she allows her students to spend one hour a week working on an independent project involving something they are passionate about.

"Students are given class time one day a week, to research anything, any topic that is of interest to them, as long as they could learn something and demonstrate what they have learned to the class at the end of the presentation."

The Genius Hour is just one example of project-based learning activities appearing throughout the District from elementary through high school. By allowing students to choose and share information on subjects that reflect their own individual passions, the enthusiasm level increases even as critical learning and presentation skills are applied.

#StandUp Neshaminy effort grows
The Student Council at Poquessing Middle School poses with a #StandUp Neshaminy fence decoration they created in October.

Since launching over the summer, #StandUp Neshaminy has reached out to elementary school parents with information about the opioid crisis and ways to talk with their children about substance abuse prevention. Now the effort is reaching into middle schools, starting with an in-school assembly at Maple Point Middle School and a parent information presentation scheduled for Wednesday, November 14. Additional assemblies are planned for Poquessing and Sandburg, and plans in the works for activities at Neshaminy High School as well.

Students at Poquessing Middle School adopted #StandUp Neshaminy as part of their Red Ribbon week activities in late October. Red Ribbon Week is observed by schools across the nation to promote awareness of the dangers of alcohol and drug abuse and the promotion of healthy lifestyles.


Community unites in respect of diversity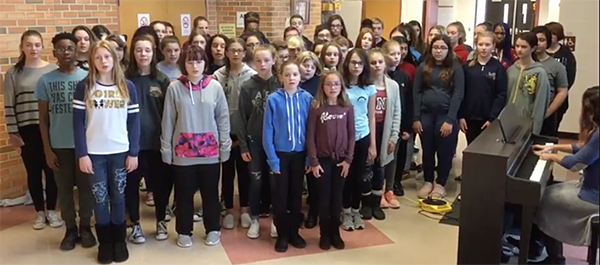 On October 25, a vigil and community forum was held at Carl Sandburg Middle School in response to a pair of graffiti vandalism incidents over the two previous weekends. This event was coordinated by The Peace Center in Langhorne and included a number of individuals and groups from the District and the community united in opposing hate speech in any form and teaching the value of respect, tolerance and diversity.


Peace vigil at Carl Sandburg Middle School
Instructional Rounds shares classroom successes
| | |
| --- | --- |
| Instructional Rounds participants compare notes at Maple Point MS | On October 25, a group of teachers and administrators visited classrooms at Maple Point Middle School and gathered to discuss their observations as part of Instructional Rounds. This program, started last year at Neshaminy, offers an opportunity for constructive dialogue on the effectiveness of curricula and classroom procedures based on interaction with teachers and students as they go about their normal day. Instructional Rounds was developed at Harvard University to offer educators an evidence-based system to improve the effectiveness of their instruction. |
Join us at a substitute staff hiring event
Do you love working with kids and want to jump-start a career in education right here at Neshaminy? A number of additional opportunities throughout the District for certified and support staff can be found at the district employment site below (updated frequently). All applicants will be required to obtain Pennsylvania clearances.
The Guest Teacher program offers individuals who hold at least a Bachelors degree (but no active PA teaching certificate) the opportunity to obtain emergency certification to substitute teach in Neshaminy schools. Jump-start a career in education and work when you want! Click the link below for more information, training dates and locations.
Other opportunities include full-time, part-time and substitute positions to fit a variety of schedules, experience levels and interests. The District is holding three substitute staff hiring events
November 30 and December 14
from 10 am - 12 pm each day at District administrative offices at Maple Point Middle School.

Neshaminy district employment opportunities
October We Build Futures Award winners
Superintendent Jones once again honored District staff who made significant contributions to fulfilling the District's mission of advancing the implementation of the Neshaminy Strategic Plan.

Those honored during in October include (click on their names to see nominating information):



Karen Blumenfeld, PTO President, Maple Point Middle School
Kym Cridland, Teacher, Albert Schweitzer Elementary School
Jan King, Lead Physical Education Teacher, Neshaminy High School
Gayla Schmitz, Instructional Assistant, Albert Schweitzer Elementary School
Anne Schmidt, Teacher and Department Chair, Maple Point Middle School
Brian Suter, Lead Teacher, Neshaminy High School
Congratulations to all award winners! More information about the We Build Futures Awards can be found on the District website below.




We Build Futures award winners



Week of Nov. 12-16:

American Education Week, check individual school websites
for class visitation information
Wednesday, Nov. 14: #StandUp Neshaminy MS info night, 7 pm, Maple Point


Thurs & Fri, Nov. 15 & 16:

NHS Drama, 'All I Really Need to Know I Learned
By Being in a Bad Murder Mystery, NHS, 7 pm each night


Tuesday, Nov. 20:

Powder Puff football game, NHS, 6:30 pm


Wednesday, Nov. 28:

NHS Drama, special performance of 'James and the Giant
Peach,' Maple Point MS, 7 pm


Wednesday, Nov. 28:

Neshaminy's Got Talent benefit show, NHS, 7 pm


Thursday, Dec. 6:

NHS Orchestra at Middletown Holiday Celebration,
Middletown Township Building, 7 pm


Friday, Dec. 7:

PTO Forum, Maple Point District Board Room, 9:30 am



Please check the District website, school websites and District Facebook page for more information and additional events throughout the year!



Neshaminy Education Foundation



Eagles vs. Giants ticket raffle

Congratulations to Barbara Markowitz, winner of the Eagles ticket raffle, and thanks to all those that participated. The raffle raised over $1,000 for the Foundation.

Bertucci's Dining for Dollars

Also thanks to the many families and Neshaminy staff members who joined the NEF at Bertucci's on Election Day and the following day. This twice-yearly fundraiser is a major source of revenue for the Foundation.
---
Pearl S. Buck Elementary School
Bess beetles build budding Buck biologists




Bess beetles arrived in the third grade classrooms during October. Students were thrilled by their creepy crawly ability to climb just about any surface. They examined their structures and behaviors and wondered just how strong they are. They tested how much weight they could pull in a Paperclip Pull Race.




Buck celebrates Walk to School Day

With an escort from the Middletown Township Police, students celebrated International Walk to School Day on October 11. This annual event encourages healthy exercise and road safety. The walk at Buck was also sponsored by Partnership TMA and Saint Mary Medical Center.

Joseph Ferderbar Elementary School



Halloween parade draws an assortment of costumed characters


The annual Ferderbar Halloween Parade was held Friday, October 26. Students dressed as their favorite superheroes, ghouls, princesses, science-fiction characters and even astronauts for the festivities.
Herbert Hoover Elementary School
New service club completes their first project

The Herbert Hoover Leadership Club successfully ran their first service project. The Scare Aware Hunger Food Drive collected over 445 non-perishable items to be donated to a local food pantry. Students are looking forward to planning the Thanksgiving Food Drive throughout the month of November to benefit local families.


Hoover celebrates Fire Prevention Week


Students were treated to a visit from the William Penn Fire Company during the week of October 22. Schools throughout the District practiced their safety skills with fire drills and visits from area fire companies.



Walter Miller Elementary School
Costumes double as school musical announcement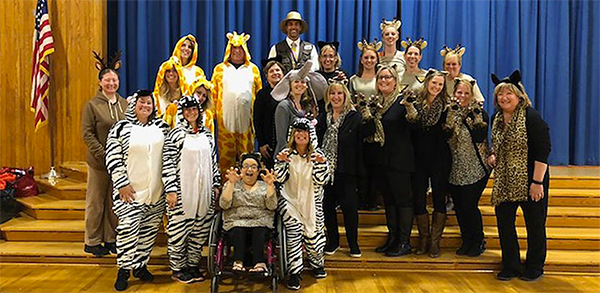 On Halloween, the staff at Walter Miller Elementary School dressed in a theme of costumes, which doubled as an announcement to the students as to what their school musical will be this year. Can you guess what it is?

Drivers and crossing guards recognized for their contributions


On October 29, the Walter Miller's SWPBIS (School Wide Positive Behavior Intervention and Supports) team provided breakfast for the bus drivers and crossing guards that serve the school to thank them for all they do to help get the students to and from school safely. This was a recognition that they are an important part of this program to keep students at Miller safe not just at school but in transit as well!

Albert Schweitzer Elementary School
New paint brightens Schweitzer playground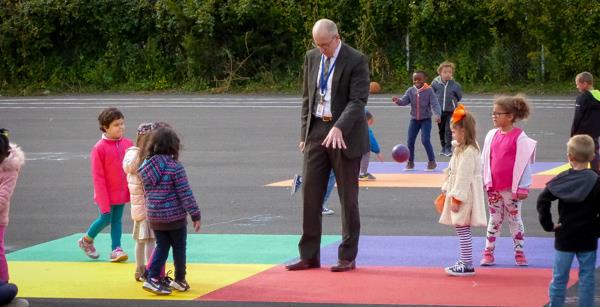 Superintendent Jones visited the new blacktop painting at Schweitzer Elementary

Students at Schweitzer Elementary are excited about getting stencils painted on their blacktop, thanks to the Neshaminy Facilities Department and Albert Schweitzer PTO for supporting the project. Superintendent Jones recently stopped by the Four Square game to check out the progress of the painting, joining a group of kindergarten students. They will also be looking forward to a large checkerboard, Robot Hopscotch, an agility circuit, and a track around the outside of the blacktop.

Book Night a success from cover to cover

On October 22, students and families from Albert Schweitzer came out to the Oxford Valley Barnes and Noble store to support their school for a fundraising night. There were cupcakes to decorate, specialty Halloween 'Mummy Wrappaccinos' at the cafe, and many books to read. Guest readers included teachers Kimberly Maurizi, Monique D'Entremont, Stacey Flynn, and Dr. Amy Orlando. Elizabeth Agger and the 4th grade Chorus performed festive Halloween songs for the audience as well.

Tawanka Elementary School
Second grade goes to the dogs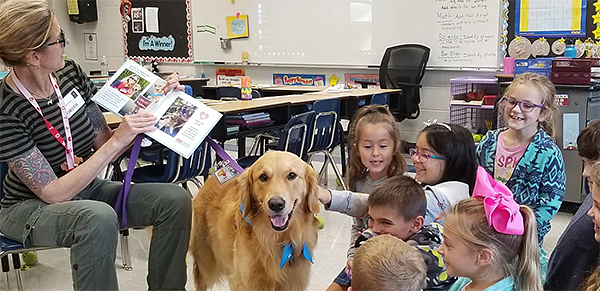 Diane Hanna's second grade class got a very special visit from retired art teacher Deborah Deeken and her Golden Retriever Chance in October. Chance is a therapy dog who will be visiting once a week to help children practice their reading fluency.



Tawanka celebrates Red Ribbon Week
| | |
| --- | --- |
| | The Tawanka Family supported the National Red Ribbon Week Campaign, October 22-26, 2018. An event that has been providing drug awareness, information, and support, since 1985. The students' main goals were to be proud of themselves, and to be their best advocate against drug abuse. |
They showed their commitment to a drug-free school by taking the red ribbon pledge, and hanging red ribbons, with encouraging statements, on the trees in front of the school. The week had many opportunities for the students to strive for a drug-free life. There were positive drug free suggestions made during the morning announcements, special dress code days, and they even sang a silly song. Tawanka is very proud of the commitment the students made during the week.


Maple Point Middle School

The hallways at Maple Point were bright with creative door decorations in October created by teams of students working together to promote positive messages and prevent bullying -- both in person and online. The project was one part of the school's M3P program - Be Responsible, Be Respectful and Be Safe. Groups of students visited each door and rated them for creativity and execution.



M3P door contest at Maple Point Middle School
Poquessing Middle School



Poquessing duck is just Super


Have you seen this duck? If so, you just might be at Poquessing Middle School. The soon-to-be-named mascot of the school's PTO fundraising drive had the opportunity to pose with the Eagles Super Bowl trophy recently. Thanks to Instructional Aide Margie McCurdy for bringing this 'ducky' character to life!
Interact Club visits elementary school


On October 4, a group of Interact Club students from Poquessing Middle School (seated in the front of this group) visited Tawanka 4th-grade students to build enthusiasm for their version of the service-learning group, EarlyAct. Both are sponsored by Rotary International and teach students the value of community service through activities and volunteerism.


Carl Sandburg Middle School
Sandburg staff shuns razors for a cause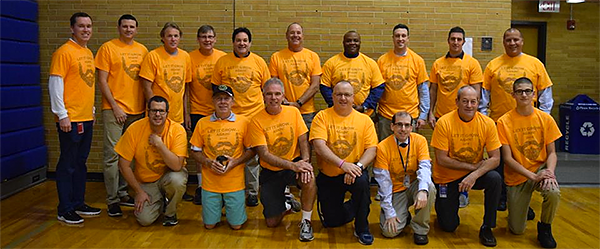 Once again, a group of male teachers at Sandburg Middle School are dropping their razors and 'Letting it Grow' for November to raise money for St. Jude Children's Research Hospital. Last year they raised $3,099 and are looking to top that number this year. Please consider clicking on the link and donating to the cause and remember that no donation is too small. St. Jude is a major pediatric research and care facility which does not charge families for care.



Carl Sandburg Middle School Let it Grow donation site
Fifth graders 'Choose Kind'


The fifth-grade at Carl Sandburg Middle School spent part of a recent Friday afternoon outside enjoying the nice weather and participating in a variety of positive team-building activities. The theme for their class this year is

Choose Kind,

and they had the matching shirts and positive outlook to prove it.


Neshaminy High School
Community wishes NHS crossing guard well after accident
The Neshaminy community is rallying around Neshaminy crossing guard John Shook following a recent accident in the high school driveway. In the early morning hours of October 29, John was struck by a vehicle making a turn at the top of the driveway next to the school, knocking him over and causing a hip injury. Principal Ryan Staub is forwarding get well cards as Mr. Shook recovers from his injury. We wish him a smooth recovery and speedy return to NHS!

Interact clubs attend regional leadership conference
Interact clubs from 8 area schools (including Neshaminy High School), Rotaract members and Rotary Youth Exchange Students from seven countries came together October 27 with one goal in mind -- Service Above Self. They started the day by packing 10,000 meals for Rise Against Hunger and then had breakout sessions on fundraising, leadership and membership. The students were also able to network and establish goals for a district council. The chapter at Neshaminy High school is sponsored by the Langhorne and Feasterville Rotary Clubs.

Kaleidoscope plays on despite the rain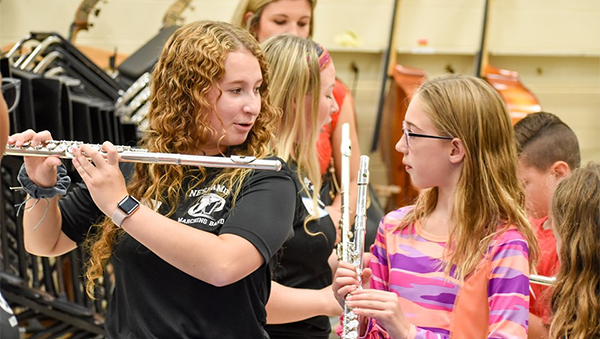 Rain drove the 26th annual Kaleidoscope of Bands indoors on October 20, but certainly did not dampen any spirits or stop the music. Seven marching bands from area high schools competed, and Neshaminy performed in exhibition. The Marching Band is celebrating a stellar season, having earned several first-place wins for their division in earlier competitions. The season wrapped up on Saturday, November 10 at the Cavalcade of Bands in Hershey, PA.

Halloween is elementary for Spooky Kooky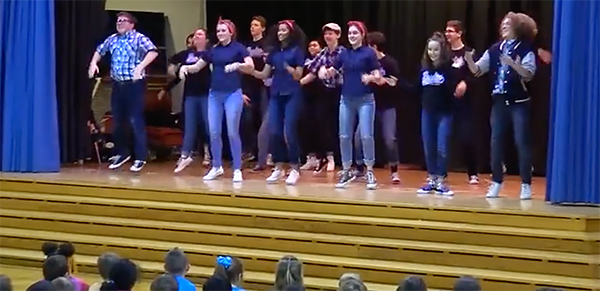 The Neshaminy High School Drama Roadies once again took their Halloween Show, Spooky Kooky on the road to the District's elementary schools. Described as more Kooky than Spooky, the show features a number of original comedy sketches book-ended by a pair of high-energy musical numbers. The Roadies have been performing this Halloween favorite for students and the community for seventeen years.


Honor Society inducts new members
The Neshaminy High School chapter of the National Honor Society held their annual Induction Ceremony in October. 161 juniors and seniors were honored this year. Those students who end their sophomore or junior year with a 3.75 GPA or higher are eligible for induction. The application process takes place in the spring and the induction is held in the fall each year.

Pink Out raises $8,010 for cancer patient support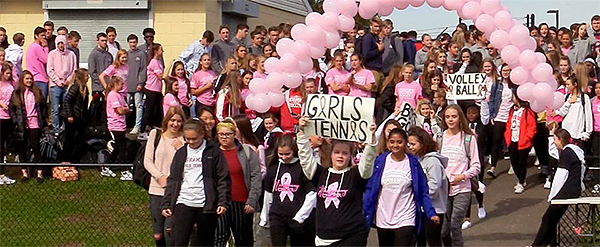 A sea of pink washed over Neshaminy School District on October 20 during the annual Pink Out. The Student Council at Neshaminy High School sponsors the event, which raises money to benefit cancer patients through the non-profit Healing Consciousness Foundation in Southampton. Through sales of pink t-shirts and collections at the Friday night football game, the group raised a record 8,010 for their cause.


Student leaders support driving safety effort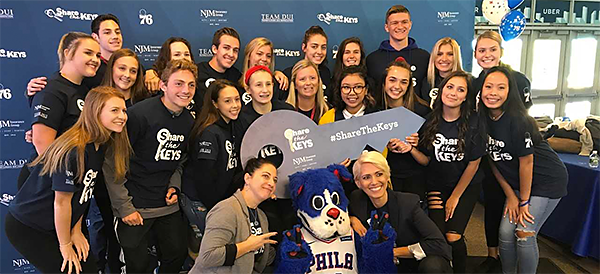 On October 23, the Neshaminy High School Class Officers and National Honor Society officers attended a
Share the Keys
kickoff event at the Wells Fargo Center in Philadelphia.
Share the Keys
is a research-based orientation program that has been proven to reduce teen driver crash risk by providing information, resources and support to encourage parental involvement in teen driving. The program is sponsored by NJM Insurance Company, the Pennsylvania DUI Association and the Philadelphia 76ers. A Share the Keys program was held at Neshaminy on the evening of October 23.
Headless Horseman is a Business Law class mystery

| | |
| --- | --- |
| | Students in Siri Sammartino's Business Law class had a mystery on their hands on Halloween. It seems that a certain pumpkin-headed horseman was the victim of a crime in the courtyard at the school, and the students had to use their powers of observation and deduction to connect the clues, which were scattered around the area. |
The activity was preceded from a visit from a Lower Southampton police officer the previous day, who instructed the students on how to correctly examine and record a crime scene and various aspects of criminal law.


The Mystery of the Headless Horseman at NHS
---
Alumni News
Legendary baseball writer honored once again
Neshaminy High School graduate Claire Smith (Class of 1971) -- the legendary baseball writer for the New York Times, the Inquirer and now ESPN -- received the prestigious J.G. Taylor Spink Award from the Baseball Hall of Fame last year. On November 1, the two-time Pulitzer Prize winner was once again recognized a little closer to home at the Philadelphia Sports Hall of Fame. Congratulations Ms. Smith!

Neshaminy Update is published monthly during the school year and distributed to the Neshaminy community via email and web. To submit comments, suggestions or news items for consideration, please email Chris Stanley, Community Relations Coordinator.
Neshaminy School District

2250 Langhorne-Yardley Road

Langhorne, PA 19047

Joseph Jones III

Superintendent

(215) 809-6000

Neshaminy School Board

of Directors

Marty Sullivan - President

Bob Feather - Vice President
John Allen


Cyndie Bowman
Irene M. Boyle


Tina Hollenbach


Adam J. Kovitz
David Marrington


Stephen Pirritano

---
The Neshaminy community builds futures by empowering each child to become a productive citizen and a lifelong learner.