Summer Programs

Click

here

for information about Neshaminy summer education programs, including Summer School, NHS Jump Start, Summer STEM Academy, the Fine Arts and Summer Stock programs, Kids Club camps and more.
---
Meet the new Superintendent video

The final candidate for the position Superintendent, Joseph Jones III, answered questions submitted by the public during a meeting at Poquessing Middle School May 18. You can view this video in its entirety

here.
---
School Closing, Consolidation

At a special Board meeting held April 12, 2016, the Neshaminy School Board voted to close both Lower Southampton and Oliver Heckman Elementary Schools at the end of the current school year. These closures are part of the District's Road Map plan.

Click

here

for information about school redistricting.

Click

here

for information about school consolidation and construction plans including documents, meeting information and discussion.
---
Kindergarten Registration

Parents of children who will be 5 years old on or before September 1, 2016 can register for kindergarten at our

Central Registration site.
---
2016-2017 Proposed Final Budget

The proposed NSD budget for the 2016-2017 school year as well as presentation notes from the School Board meeting on May 17, 2016 can be found

here. Note that this is not the final version, and additional changes to close the gap between expenditures and revenue will likely be made for the final version which will be considered by the Board in June.
---
NHS Performance Profile released

The Pennsylvania Department of Education has released the

2014-2015 School Performance Profile

for Neshaminy High School. NHS ranked as one of the top high schools in Bucks County and showed significant gains in key areas such as English Language Arts and Science.
---
Road Map Update

Click

here

to read a March, 2016 update of the Neshaminy School District Road Map project, including cost and savings information on portions of the plan already implemented and estimates of costs or savings from proposed school building closures.
---
5-8 Transition Information

Click

here

for information and documents about the grade configuration change.

The first 5-8 program review from the Bucks County Intermediate Unit #22 can be found

here.
---

---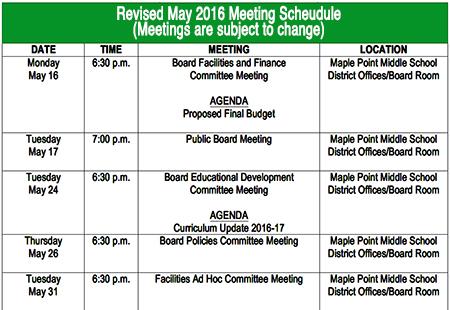 Board Policies Meeting Agenda (5/26): Board Policy – Conflict of Interest - New; Board Policy – Travel Reimbursement – Federal Programs - New; Board Policy 600; Transgender Information.
UPDATE: The Facilities Ad Hoc Committee Meeting scheduled for Tuesday May 31 will be held at 6 pm. A Board Facilities and Finance Committee Meeting will follow that meeting at 6:30 pm. On the agenda for the second meeting is the Proposed Final Budget for 2016-2017.