The term of office
is four years and elections take place in every other year.
The Board of School Directors
are elected from one of three regions. Each
region elects three board members
.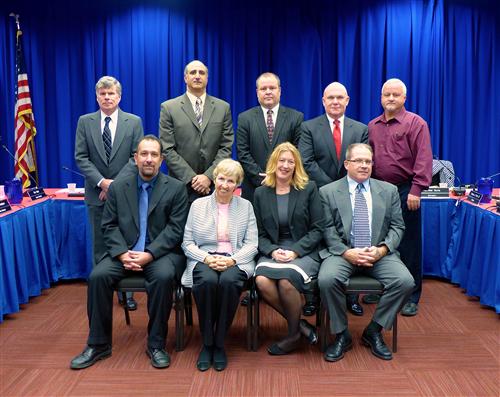 Front (l-r) Robert Sanna, Irene Boyle, Tina Hollenbach, Bob Feather. Back (l-r) Ron Rudy, Stephen Pirritano, Scott Congdon, Marty Sullivan, Mike Morris.
Board of School Directors

Mr. Scott E. Congdon, Region 1 - President
scongdon@neshaminy.org

Ms. Irene M. Boyle, Region 3 - Vice President
iboyle@neshaminy.org

Mr. Bob Feather, Region 2 bfeather@neshaminy.org
Mr. Mike Morris, Region 2
Mr. Stephen Pirritano, Region 1
---
Mrs. Jennifer Burns, Board Secretary
Mrs. Debby Spadaccino, Assistant Board Secretary
Mrs. Barbara Markowitz, Treasurer
Thomas J. Profy, III, Esquire - Begley, Carlin & Mandio, LLP, Solicitor
By Mail
Mail sent to the Board which is not addressed to a specific member could be sent to the "Board President" or to the "Board of School Directors." Send written correspondence she following address:
Neshaminy School District
Langhorne, PA 19047
Please note that the District mailing address is different than the Adminstration Office, which is located at 2250 Langhorne-Yardley Road in Langhorne.
A message can be taken and forwarded to the appropriate Board Member. In many cases a caller
will have a specific issue and asked if they would rather speak to someone who can address their
issue directly. The telephone number for the Superintendent's office is
---
NSDTV
Neshaminy School District's School
Board Meetings replayed daily at
Comcast Cable Channel 28
Verizon FiOS Channel 43
Lower Southampton, Middletown Township,
Langhorne, Langhorne Manor,
Hulmeville, and Penndel Boroughs