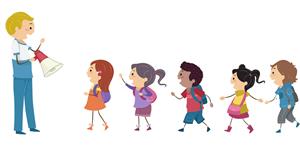 School Safety

Ferderbar Elementary places a premium on student safety. Security initiatives currently in place include:

A collaborative partnership between the school and the local Lower Southampton Police Department and first responders.

Security cameras covering the building-inside and out

Door monitoring system

Electronic "key cards" used for access control

Video access control at the main entrance doors.

Emergency procedures, handbooks and evacuation maps in each classroom.

Fire and burglar alarm systems monitored 24-7.

Monthly Crisis Emergency Response Team meetings-our building safety committee which plans monthly drills including lock down, fire, and shelter in place drills.

Families can support our school safety responses by:


Update the school immediately if your phone number (cell, home & work), email, or address changes. Additionally, children will only be released to adults listed on the emergency information form.

Talk with your child about listening and following directions at all times especially during an emergency.

Report any safety concerns you may have to the principal.

In the event of an actual emergency, parents arriving at the school may interfere with police officers, firefighters, and other emergency personnel. Your help in allowing these professionals to effectively do their jobs is appreciated. In the event of an evacuation or early dismissal, we will do our best to notify you through the district and school website.

Thank you for your help as we work together to keep our children safe.