Return to Headlines
Ferderbar, District honored for reading program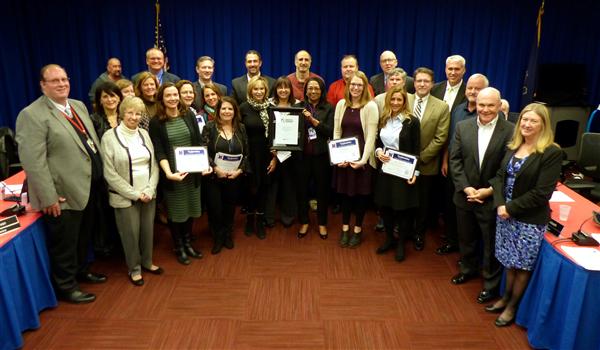 Neshaminy Title 1 reading specialists, District administrators, School Board members and Reading Horizons CEO Tyson Smith pose for a photo at the School Board meeting February 28, 2017.
On Tuesday February 28 a group of visitors from the Reading Horizons program, based in Salt Lake City Utah, visited Neshaminy to deliver the Charlotte F. Lockhart Award for Excellence in Literacy Excellence. Reading Horizons CEO Tyson Smith presented the award at a School Board meeting after visiting Ferderbar Elementary School earlier in the day to see the program in action and film a video (which will be released in late March).
Neshaminy implemented the Reading Horizons program for elementary school students with a pilot program five years ago. The program was an immediate success and was rolled out to all the Title 1 schools in the district for reading support students in kindergarten through third grade. The program builds phonics, vocabulary, spelling, grammar, pronunciation, fluency and comprehension skills using a combination of materials from books to computer applications.
"It's just remarkable what the educators at Neshaminy have accomplished," said Smith in a press release about the award. "We see a lot of success stories, but Neshaminy has gone above and beyond in their dedication to creating a culture of literacy in their district. It was their passion for student success that warranted receiving this award."
After two years of using direct instruction from Reading Horizons, Neshaminy added the company's interactive software Reading Horizons Discovery to create a blended learning model of instruction. Title I staff also initiated after-school orientations in an effort to give parents the means to apply these powerful strategies at home.
"Neshaminy School District's Title 1 staff has always been committed to providing outstanding interventional support for their most struggling readers using research-based strategies and best-practice methods," said Neshaminy Assistant Superintendent Dr. Gloria Hancock. "They have been dedicated and determined to ensure that every Title 1 student had a solid foundation in reading so all could achieve grade-level proficiency. I believe Neshaminy School District exemplifies the spirit, dedication, and passion for literacy demonstrated by Charlotte Lockhart."
According to Reading Horizons, the Charlotte Lockhart award was created to embody the characteristics and core values of its namesake, Charlotte F. Lockhart. Nicknamed the "Biphonic Woman," she was an exemplary educator and role model with a passion for teaching the world to read. The Orton-Gillingham-based method that Lockhart created is now the foundation of the entire Reading Horizons system.
Video: Creating Confident Readers