Return to Headlines
Highlight video from the Saturday afternoon show
A record number of students in grades 9-12 participated in the 65th annual Neshaminy High School Gym Night Saturday & Sunday March 3 and 4, 2018. Inclement weather postponed the start of the festivities on Friday evening, so the shows shifted forward and a Sunday matinee was added.
Gym Night is one of Neshaminy's greatest traditions and the most highly-anticipated event of the year. Preparations begin months in advance, and involve the entire Neshaminy community from students to parents to local businesses that donate supplies and space for building floats and painting the enormous banners.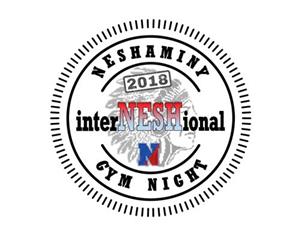 The performances this year spanned the globe with themes taking the audience to China, Great Britain, Ireland, Brazil, ancient Egypt and Spain. By Sunday afternoon the competition was close, but Red narrowly edged out Blue by a score of 38-35 to take the title before the colors were once again rejoined.
Below are various links for photos, videos and other Gym Night media. All three shows will be televised on NSDTV (Comcast channel 28 and FIOS channel 43) later in March through April. Please visit www.neshaminy.org/nsdtv for more information and show schedules.
LINK: Gym Night 2018 photo gallery from Jesse Garber
LINK: Gym Night 2018 information pages
Additional YouTube Video Links
(Please note: The following are external non-District links posted by audience members for informational purposes only. These listings do not imply endorsement).