Return to Headlines
Kids Club, Hoover PTO collaborate on donation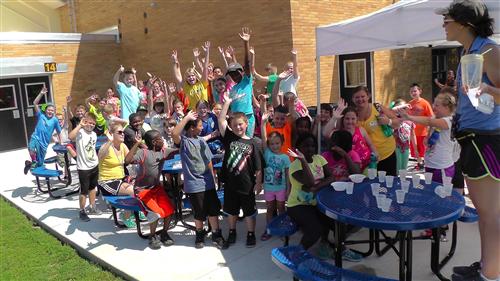 Thanks to a collaborative fundraising effort, summer Neshaminy Kids Club campers at Herbert Hoover Elementary School are enjoying a new picnic area outside the school, as well as new protective wall pads in the gymnasium. Both items will also be used by Hoover students in the future as well.
Hoover principal Michael Rodriguez thanked representatives from Kids Club as well as the Hoover PTO for the donation during a ceremony Wednesday June 22 at the school, in front of a group of Kids Club campers and staff members
Neshaminy Kids Club is an independent organization that provides before and after-school care in several Neshaminy District school buildings, as well as providing a summer camp program for elementary students in grades K-8. Since the equipment is used by both Kids Club and the school, the two groups decided to get together and donated over $10,000 to offset the cost of the items.
The purpose of the mats is to cover a traverse climbing wall at one end of the gymnasium, thus allowing children to safely play games without fear of a hard impact with the wall when it is not in use. The mats can be easily removed when the climbing wall is to be used.
The outdoor picnic area includes 8 thermoplastic coated metal tables set on a concrete patio just outside the gymnasium area.
"I feel very fortunate to have great partners," said Mr. Rodriguez during the ceremony which was held in the gymnasium. "Our PTO has been fabulous in helping the school and continuing to improve it on a regular basis. The Neshaminy Kids Club has been a super partner that has helped us in other endeavors, and I appreciate working with them to make Hoover great."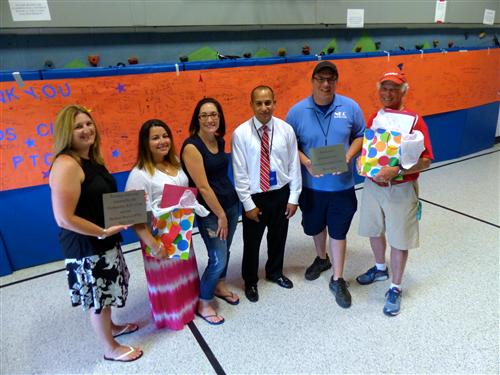 (left-right) Herbert Hoover ES PTO members Lauren Eckert, Melissa Devine, Kelly Rooney and Principal Michael Rodriguez; Kids Club staff members Chuck Inverso and Jim McPartlin at the dedication ceremony for the new traverse wall mats (seen behind the group) and an outdoor picnic area.