Return to Headlines
Christmas Choir Competition
The Neshaminy Select Choir under the direction of Kristin Nichols went on a magical ride in December.
The group entered the 101.1 More FM Christmas Choir Competition with the a capella sing, Text Me Merry Christmas from the group Straight No Chaser in the 9-12 division of the contest. After two rounds of public voting on the radio station's website, Neshaminy was declared the winner early in the morning on December 8. The group won the same contest in 2012 when the station was called B101.
The prize was $5,000 for the Neshaminy music program, and the opportunity to perform on stage with the Philly POPS at their Christmas concert on December 14. The Select Choir was featured heavily on Philadelphia media starting with a live appearance on the Fox29 Good Day Philadelphia program on December 8 broadcast from the Theodore Kloos Auditorum during the Neshaminy High School Holiday Concert. Their song was placed in the rotation on the radio stations's holiday playlist and will be heard throughout the season, and they appeared live in-studio to perform it once again on December 18.
On December 15, the choir appeared in a 'flash mob' at the Neshaminy Mall Food Court, then performed at the Barnes & Noble store for the Neshaminy Literacy fundraiser at the store.
The Poquessing Middle School Select Choir under the direction of Jason Leigh also entered the same contest, but in the K-8 division. They placed second after two rounds of voting, earning $2,000 for the music program with their beautiful rendition of Auld Lang Syne.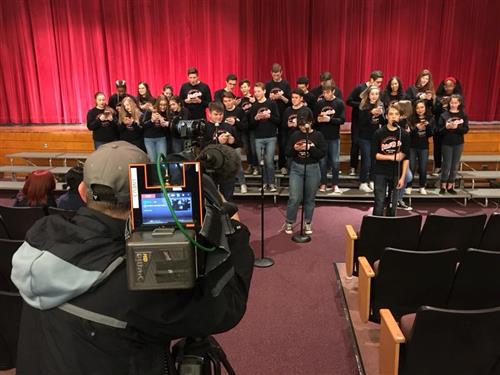 Live broadcast from Neshaminy High School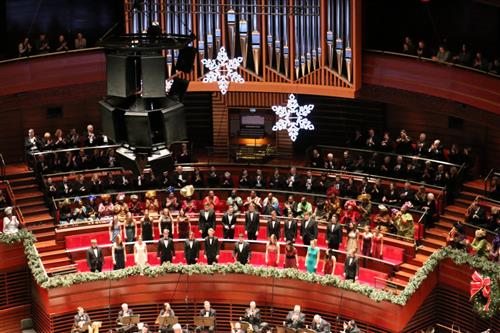 Neshaminy High School Select Choir at the Kimmel Center