Return to Headlines
Hour of Code across the district
Neshaminy HS Business, Computers and Information Technology students work on Hour of Code projects
Students across the district participated in Hour of Code across the district during the week of December 4-8. At the high school, students viewed videos showcasing the international event with celebrity endorsements and the importance of computer science. This week students learned more about job opportunities right here in the state of Pennsylvania regarding computer science skills. Activities provided by Code.org enabled students to experiment with code using game applications. They also learned to create code working obstacle courses and applied sequencing through Java programming languages. Students worked with encryption activities and text compression exercises. The text compression lessons taught students how to reduce the size of music files as repeated syntax was removed and replaced with indicators to reduce large percentages of file space.
Eighth grade students were creating their own personal web pages using HTML. They also completed coding activities on code.org/learn. "Play That Tune App" was very popular. It featured a piano keyboard and had students play different musical notes using the code provided. Students also enjoyed the "Create Your Own Sports" activity. They coded a sports player to move and shoot the basketball at certain times. Timing was important to consider when coding the shots. The seventh grade continued coding in Scratch. Some students also accessed the code.org activity, "Google Logo", which allows you to customize and animated the Google logo using Scratch code. Other students enjoyed creating their own unique version of the Google logo. Fifth grade students used drag and drop visual blocks to write code to solve a series of puzzles with popular animated series. Fifth grade students also completed the Google Doodle challenge which encourages students to find the shortest, most efficient sequence of code.
Students in the elementary schools logged into practice coding using the visual block programming language, Scratch. This language, developed at the Massachusetts Institute of Technology Media Lab, encourages children to think creatively, reason systematically and work collaboratively. They learn key coding concepts such as sequencing and loops in increasingly challenging activities.
Hour of Code is an international effort designed to reach millions of students all across the globe for the purpose of demystifying computer science and showing that anybody can learn the basics.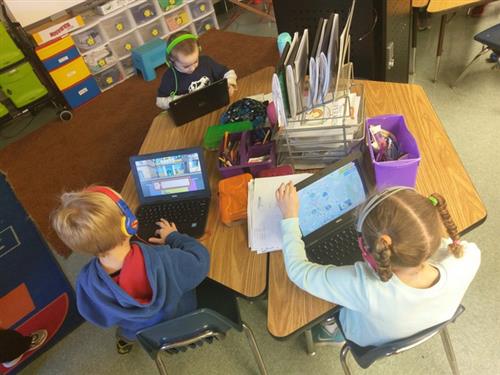 Hour of Code even has activities for our youngest students, including these at Pearl Buck Elementary
Link: Hour of Code official website