Return to Headlines
NHS interns help prepare 5,300 Chromebooks
There is little doubt among experts that future workplaces, from manufacturing plants to hi-tech start-ups in Silicon Valley, will include a heavy integration of technology into just about every job description. Neshaminy is continuing to meet the challenges of preparing our students for the future by integrating collaborative, cloud-based technology at every level of our curriculum.
For the 2017-2018 school year, students in grades 5 and 8 will be receiving Dell Chromebooks, which will be theirs to use both at home and at school throughout the year. The middle schools will be gradually moving toward an all-Chromebook environment in subsequent years, but for this year students in grades 6 an 7 will continue to use the iPads issued last year. iPads are moving to grades K-1, and future middle school classes will be issued the Chromebooks. This year, all kindergarten classes will have iPad carts with 12 available for each class. Though the iPads are a tremendous resource for collaborative student learning, the Chromebooks offer the advantage of a built-in keyboard, Google Docs comp ability and a lower per-unit cost. Younger students who are not yet fluid with typing will benefit the most from using iPads and the many apps designed for their level.
| | |
| --- | --- |
| Students in grades 2 through 4 will each be issued their own Dell Chromebook to use while they are in school. This distribution began last year, and will be completed with the start of the new school year. The long-term goal of the 1:1 Technology Program at Neshaminy is to expand to every grade, including the high school. Though students at NHS currently have expanded access to computers at multiple locations, the 1:1 integration will offer them the chance to expand their learning to any location. | |
Many full-sized laptops at the end of their life cycles have been replaced with Chromebooks at the high school, offering the processing power needed for most web-based and text applications at a fraction of the cost. Certain applications such as graphic arts, music and engineering still require full-sized desktop machines, which will remain.
This integration of technology is feasible due to the completion of a district-wide wireless gigabyte network installation over the past couple of years by the Neshaminy Information Technology Department. Each school building has been outfitted with the latest wireless network technology, designed to handle the intense data load generated by thousands of devices running concurrently during the school day. In addition, security controls have been built in to each device to restrict student access to appropriate material and apps, whether they are using their devices in school or at home. These controls are monitored and updated constantly by our IT staff to keep up with the ever-changing nature of the internet.
During the summer of 2017, over 5,3000 new Chromebooks were deployed across the district by the I.T. team with some help from two student interns from Neshaminy HS. Each Chromebook had to be unboxed, organized, labeled, registered and distributed.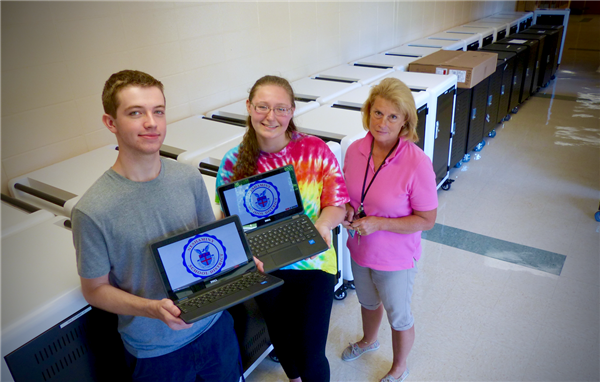 Neshaminy High School students Andrew Schmitz (left) and Rebecca Bertel (center) were hired as summer interns to help prepare 5,300 Chromebooks for distribution throughout the district over the summer. Shown here with Technology Support Specialist Christine Gancarz, they and many other IT support personnel were responsible for preparing the Chromebook carts behind them for delivery to the elementary schools. Their work included powering up each Chromebook and running a configuration routine on each of them, organizing them, and wiring up the carts, some of which were recycled and reused from previous full-sized laptop computers. In addition to the Chromebooks they helped prepare student iPads and cleaned staff desktop computers throughout the district.