40 NESHAMINY HIGH STUDENTS ARE FBLA REGIONAL WINNERS
On December 14, Neshaminy High School's FBLA (Future Business Leaders of America) Club competed in the Region 12 FBLA Competition at Delaware Valley University. Neshaminy High School's FBLA Club is proud to announce the names of 40 students who won or placed in various business and computer application events. This competition was attended by numerous Bucks County high schools. This year Neshaminy High School has 72 students participating as FBLA club members.
A majority of the Regional winners, 36 students, are now eligible to attend the FBLA State Competition at the Hershey Lodge, in Hershey, Pennsylvania in April. The Business, Computer & Information Technology Department wishes them success as they compete at the next level. State winners will have the opportunity to compete at the national level, this summer in Anaheim, CA. FBLA is a nationally recognized organization that promotes business and technology leadership in high schools across the United States.
First Place Regional Winne
rs
Anna Skrot & Jacqueline Ziegler – BANKING AND FINANCIAL SYSTEMS
Ben Dunn – INTRO TO FINANCIAL MATH
David Fiel – CYBER SECURITY
Second Place Regional Winners
Rachel Lewandowski & Payal Patel –BUSINESS ETHICS
Momina Khan, Paloma Mohanty & Nora Okwara – EMERGING BUSINESS ISSUES
Veronica Banks & Rebecca Bertel – GLOBAL BUSINESS
RJ Christie, Steven Muller & Andrew Schmitz—ENTREPRENEURSHIP
Jackson Bowman, Patrick Forman, Lucas Lohn & Zach Roosa – PARLIAMENTARY PROCEDURE
Brian Ostaszewski—ACCOUNTING 2
Sean Sanko- AGRIBUSINESS
Athena Strippoli – HEALTHCARE ADMINISTRATION
Third Place Regional Winners
Isabella Capecci -- INTRO TO FINANCIAL MATH
Greg Drapkin—INTRO TO BUSINESS COMMUNICATIONS
Payton Kelly—HELP DESK
Amanda Kurtz—ORGANIZATIONAL LEADERSHIP
Peter Strippoli – BUSINESS CALCULATIONS
Jonathan Vadaketh—BUSINESS COMMUNICATIONS
Lillie Zielinski—INTRO TO INFO TECH
Fourth Place Regional Winners
Danielle Helstrom—SPREADSHEET APPLICATIONS
Alexandra Strugariu – INTRO TO INFO TECH
Alex Schettino—ECONOMICS
Jake Van Dine—CYBER SECURITY
Alexandria Ziegler—INTRO TO BUSINESS PROCEDURES
Fifth Place Regional Winners
Meghan Bressler & Briana Fredericks—SPORTS & ENTERTAINMENT MANAGEMENT
Udukhomo Agbugui - ACCOUNTING 2
Josie Bursk – INTRO TO PARLIAMENTARY PROCEDURES
Drew Hindman—ACCOUNTING 1
Samantha Kusters—ORGANIZATIONAL LEADERSHIP
Tori Silva—SPREADSHEET APPLICATIONS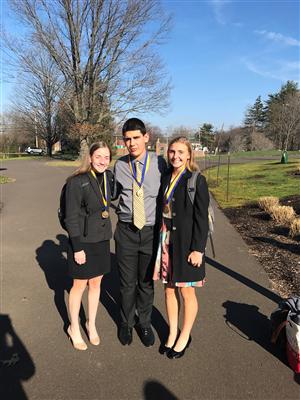 First place winners