Ken Bader
---
Name and Location:
Occupation:
Chemistry Teacher,

Neshaminy High School
Langhorne, PA
Education:
M.S. Chemistry, Masters of Chemistry Education,

University of Pennsylvania

B.A. Biology, magna cum laude,

Holy Family College, Philadelphia

Montgomery County Community College,

Math and Computer Science Studies,
Blue Bell, Pennsylvania

LaSalle College, Philadelphia

Business Studies

Frank W. Cox High School, Virginia Beach, Virginia


Personal Interests: High School Sports, Biking, Desert/Mountain Hiking, Computers, Plants/Animals (gardens, aquarium), Writing (poetry), Philosophy, Music (mostly classic rock), History, Correspondence, Current Affairs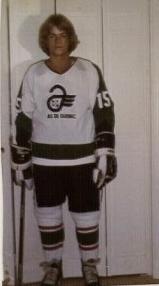 Interesting Past Employment and Experiences: lived as a child in the Pinelands National Wilderness area; was an accomplished ice hockey player in high school; have worked as a box maker and designer, forklift driver, donut baker, building superintendent, cook, microbiology lab intern, warehouse supervisor, ice hockey coach, woman's lacrosse coach, house painter, drywall installer, lyricist, driver, drug advisor, liquor store clerk, store manager, campaign worker (Ted Kennedy's 1980 presidential campaign), and have traveled to 46 states, Canada, and a number of Caribbean nations.
---
Back To HOME
---
This page was created and is maintained by: baderchemistry@aol.com