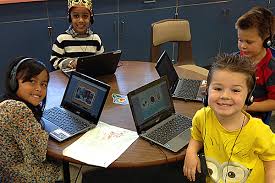 ReadyMath, iready Computer Programs
ReadyMath, iready Math and iready Reading

ReadyMath: Our elementary school math program is called Readymath. It is composed of colorful, age appropriate, consumable pages bound into a book. During classroom math lessons, children will complete the pages along with the teacher. Concepts are taught in a four step method which take approximately a week. Readymath is based on the most updated research for teaching mathematical concepts and mathematical thinking.

Computer-based Learning: Neshaminy School District has outstanding reading and math computer programs. They are innovative, engaging, and exciting. Both ireadymath and ireadyreading provide individualized practice designed to meet the needs of EACH child.

Iready Math: Program which compliments the topics students are learning in class. It provides opportunities to review, reteach, reinforce, introduce related concepts. This is all based on your child's needs/goals. It provides tools to assess student progress and help when needed.

Iready Reading: Program which provides every child individualized review of current reading topics, introduction to related reading topics, and reinforcement of concepts taught in the classroom.

Since these stimulating programs are built around each child's progress, we ask that each child complete:

· 1 hour of iready reading

· 1 hour of iready math.

*In the beginning of the year, expectations are about 40 minutes a week for each.

To access ireadyreading and ireadymath, children will be taught how to go into their CLEVER app.

More about CLEVER once school starts.