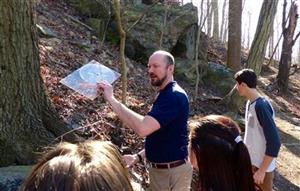 Phone:
Email:
Degrees and Certifications:
Brian Suter

Brian Suter is the Lead Science Teacher at Neshaminy School District in Langhorne, Pa where he has taught high school ninth grade integrated science, biology and environmental science for the past 26 years. For the past ten years, Brian has led Neshaminy's middle school science teachers in the development of a 21st century middle school science curriculum aligned to the Next Generation Science Standards (NGSS) and the NRC's Framework for K-12 Science Education. Brian has continued to expand the use of NGSS in both the high school and elementary classrooms.

An award-winning educator, Brian received Conservation Educator of the Year Award from the Bucks County Conservation District in 2005. Brian was invited to present at the Pennsylvania Science Teachers' Association Conference in 2014 and 2016 on Neshaminy's progress of aligning their Middle School Science program to the NGSS/ Pennsylvania Science Framework. Neshaminy's Middle School model was also showcased at the 2016 Pennsylvania Science Teachers Association Leadership Day. As a result of his leadership, Neshaminy School District was featured in Education Week for their efforts as an early adopter of the NGSS. Additionally, Brian was asked to help review and critique the District Implementation Indicators document that was recently published as a NGSS resource by Achieve, Inc. In 2017, Brian was asked to present at the PA MTSS conference on three-dimensional learning in science. During the summer of 2018, he presented at the National STEM conference on Neshaminy's journey to transform its science education program.

At the state level, Brian most recently served on the 2022 Pennsylvania Science Curriculum Framework committee. From 2020 thru 2022, he served as a lead writer for the Pennsylvania Science, Technology and Environment and Ecology Standards Committee. He is also a member of the Pennsylvania STEM Advisory Committee. He previously served on the Pennsylvania Science Framework Committee, responsible for creating a clearinghouse that aligns 2002 Pennsylvania Science and Technology Standards, 2009 Pennsylvania Science and Technology standards draft (found previously on the Pennsylvania Department of Education's standards aligned system (SAS) website), Keystone Biology and Pennsylvania System of School Assessment (PSSA) eligible content/ assessment anchors. This document is now posted on the SAS website.

At the local level, Brian serves on the Bucks County Science Advisory Council. In addition, he serves as an Adjunct Professor at Delaware Valley University where he teaches an Introduction to STEM course as part of the Pennsylvania STEM Endorsement program.